Wanted to hit the beach and do some surf fishing but its been to dang cold in the morning to trunk it so I decided to try and do some more trout fishing. Checking the weather reports I saw that there was going to be a high wind advisory in afect untill 3pm so I ruled out Corona lake, SARL and the Irvine as they dont handle wind well but LNL does so thats where I headed to. Left the pad at 5:30am and grabbed some coffee and got on the road. Arrived at the lake about 6:30am and then rented a boat. Therm. at the boat dock said 34deg and this is what the boat seat looked like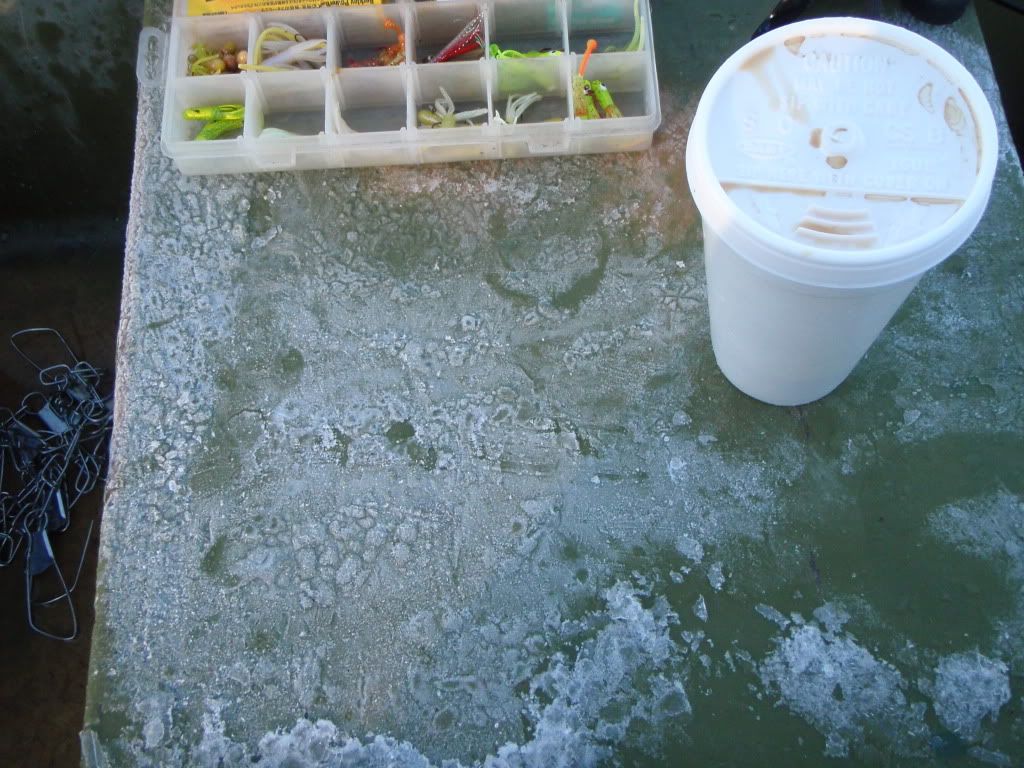 Yep, thats ice on the seats. Brrrrrrrr. Once underway I headed to the 3Pipes area and anchored just before 7am. Made three casts and C&R'ed 2 fish. Ya, they where biting. Had 9 fish C&R'ed by 9am. Just after 9 I set the hook on a good one. Few laps around the boat and she was in the net. Nice solid 9-10lber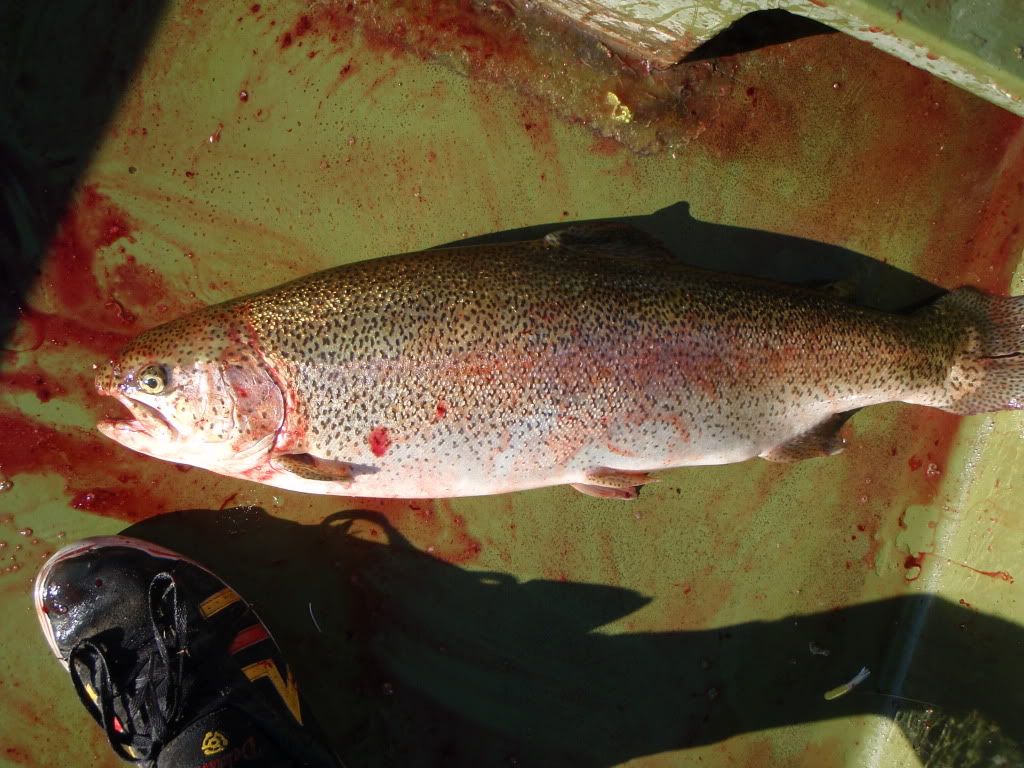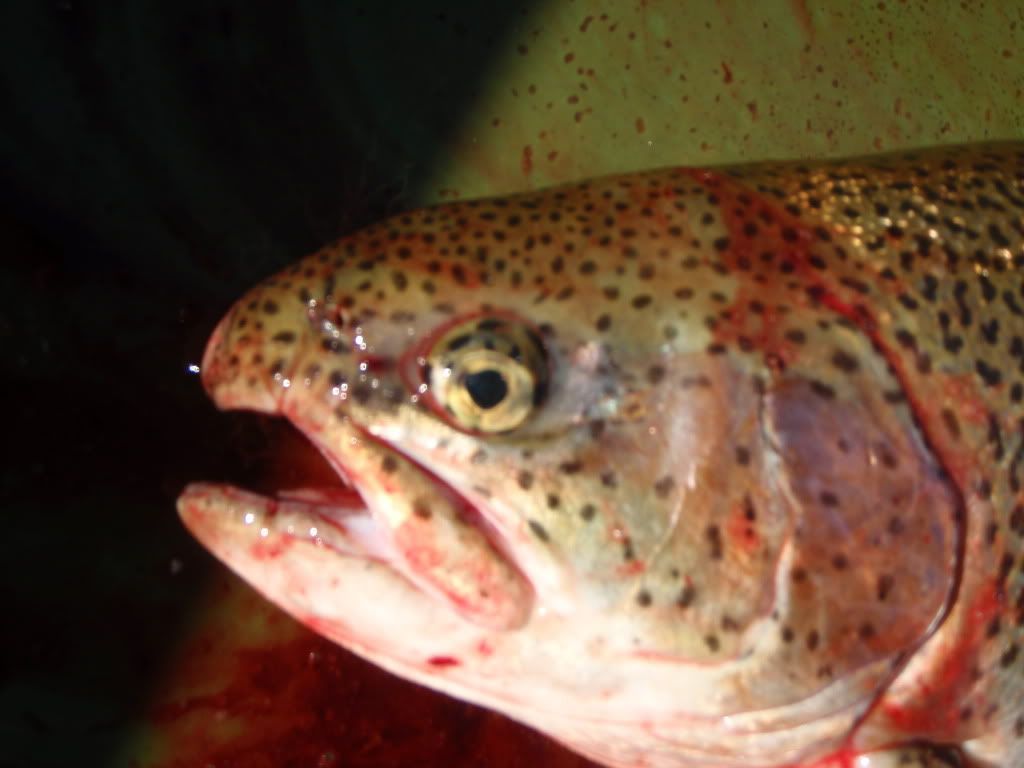 Sweet!!!!!!!!!!!!! Went back to work and just kept picking away at'em using the yellow and white minijig with scent. Couple pics of the beautifull fish in the lake and the hot jig.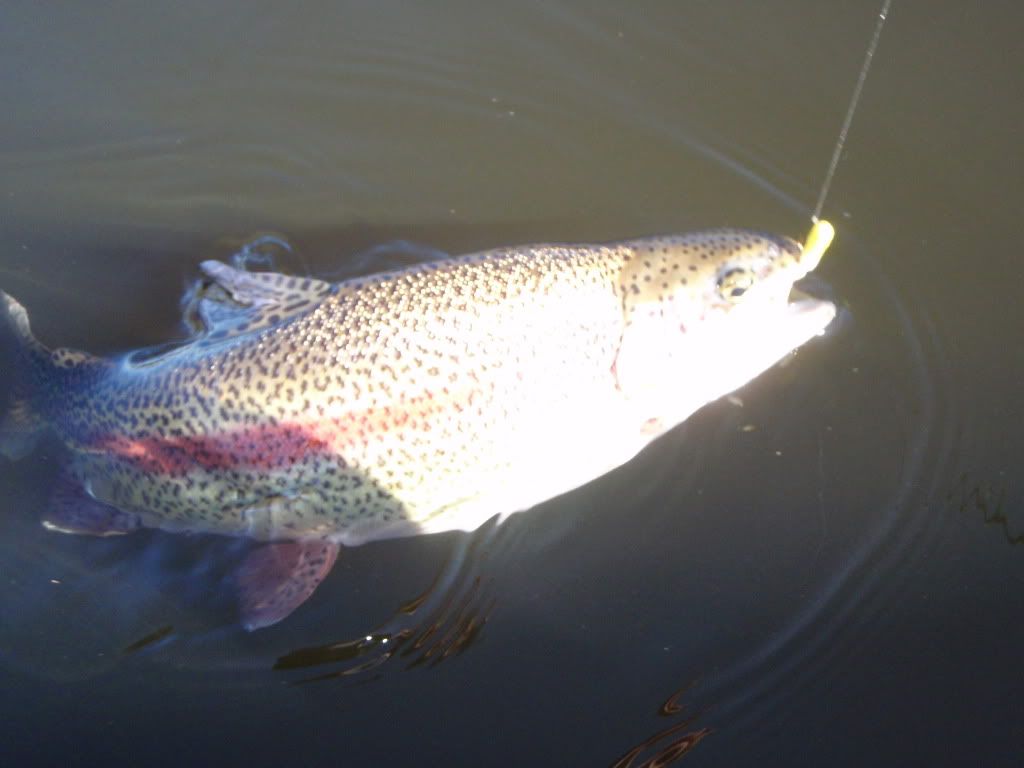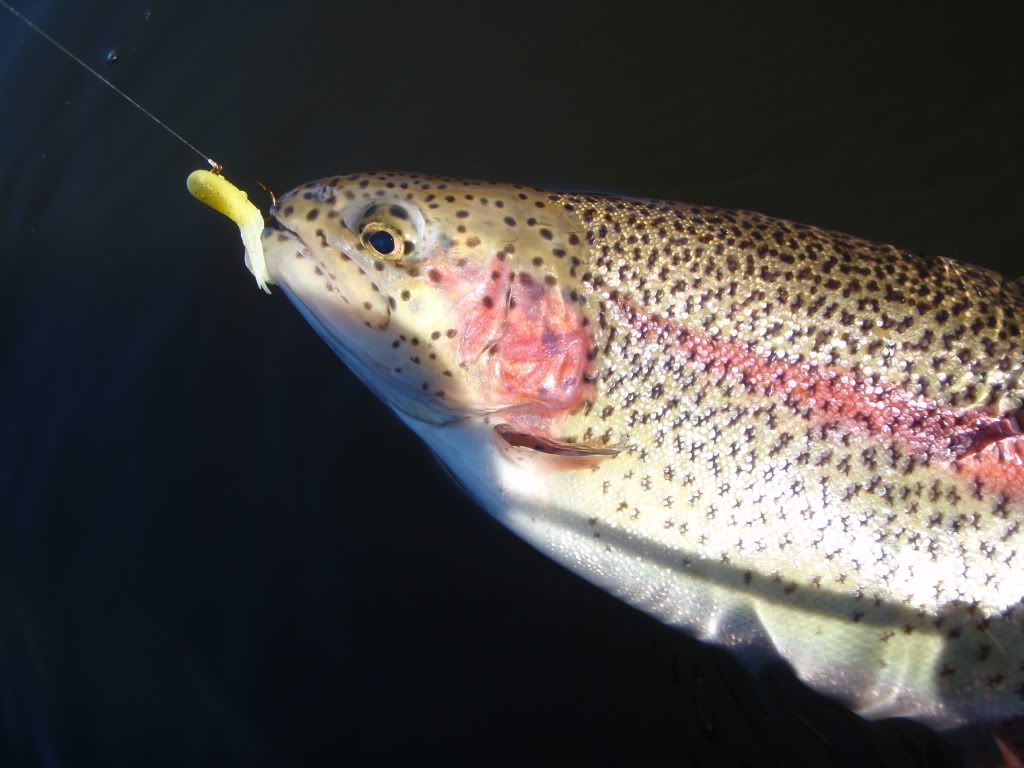 Was up to about 13-14 fish now. Then I see a guy about 100' away hookup while trolling. My buddy Doug was there tubbing and was able to video the guy. They both ended up drifting up onto me. It was cool as I like to help out and get into the action. As they got closer I got ready to net the guys fish as he was solo. fish got close and one pass of the net and bingo I got'em for the guy. Nice solid 6lb fish.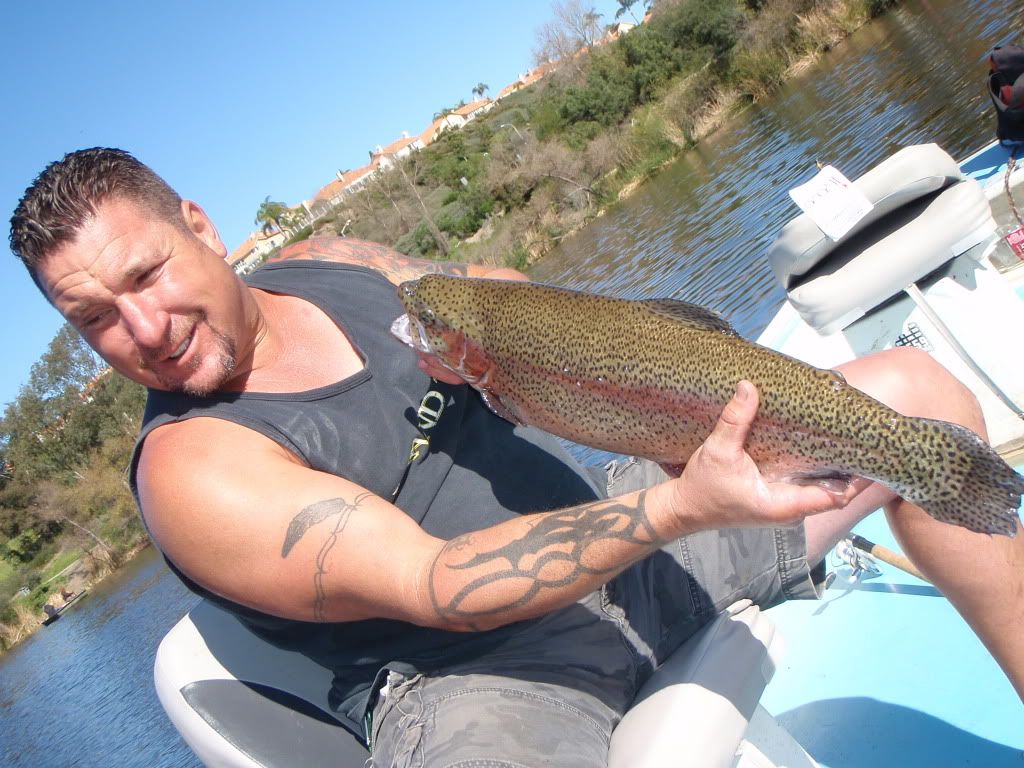 Stoked for the guy. After they both went on there way I manged a few more C&R'ed trout and I finaly got off the water at 12:30 with a total of about 15 C&R'ed trout and 5 taken home on the stringer (20 total).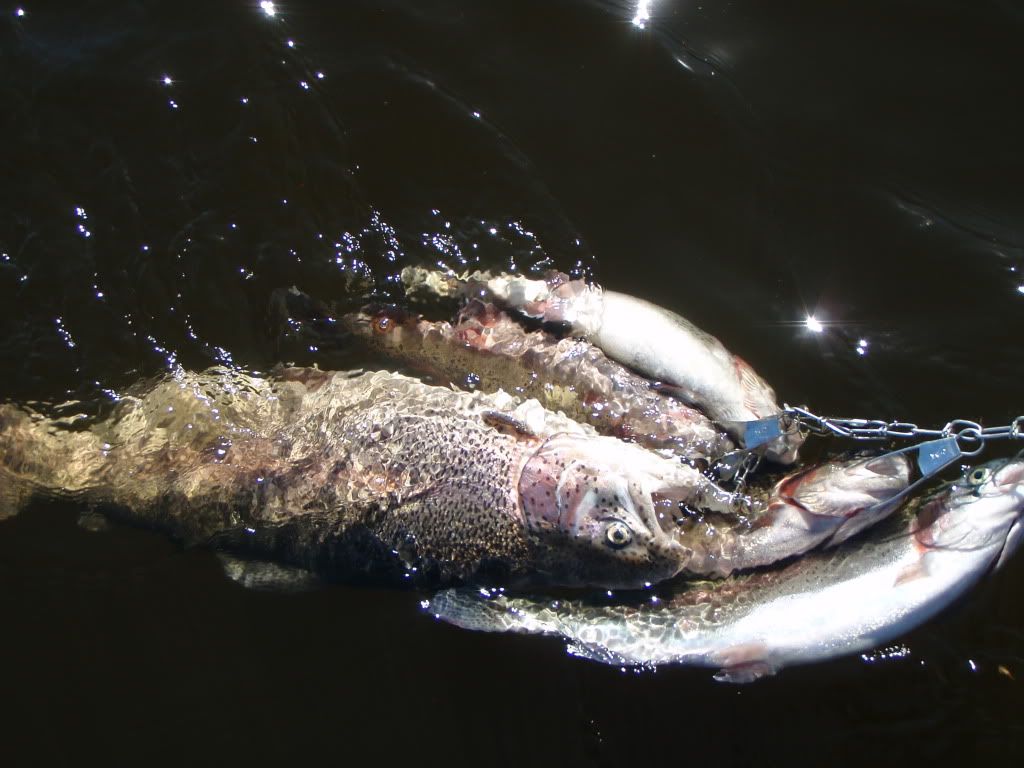 Back at the dock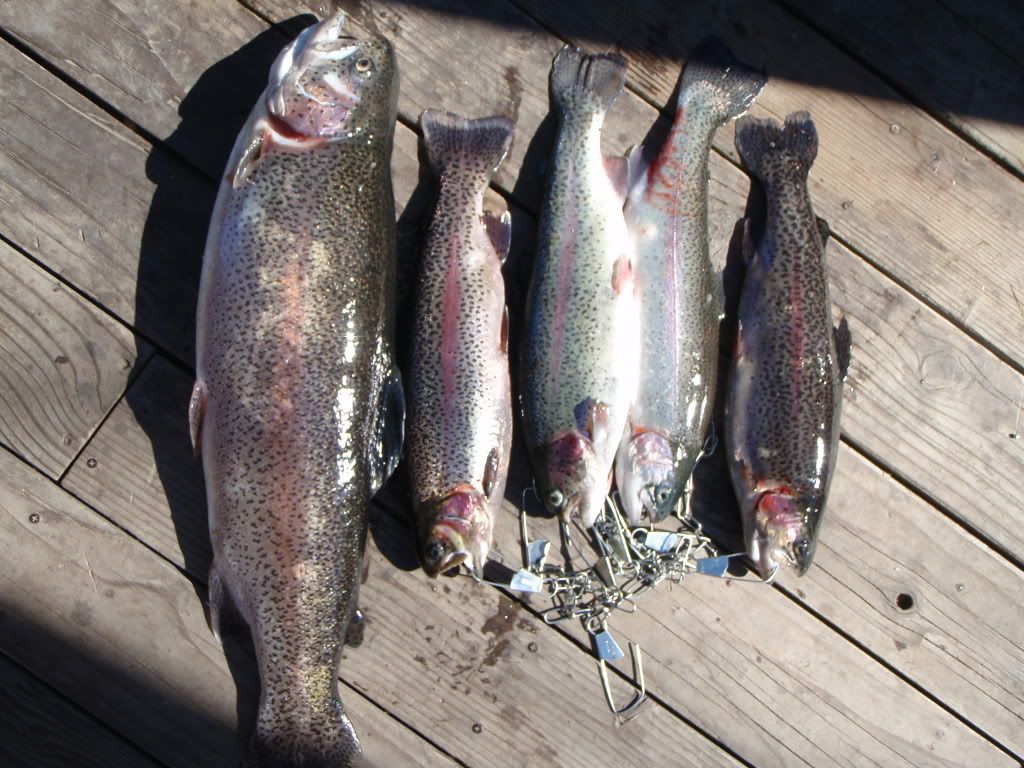 Big guy went 9.8#'s on the scale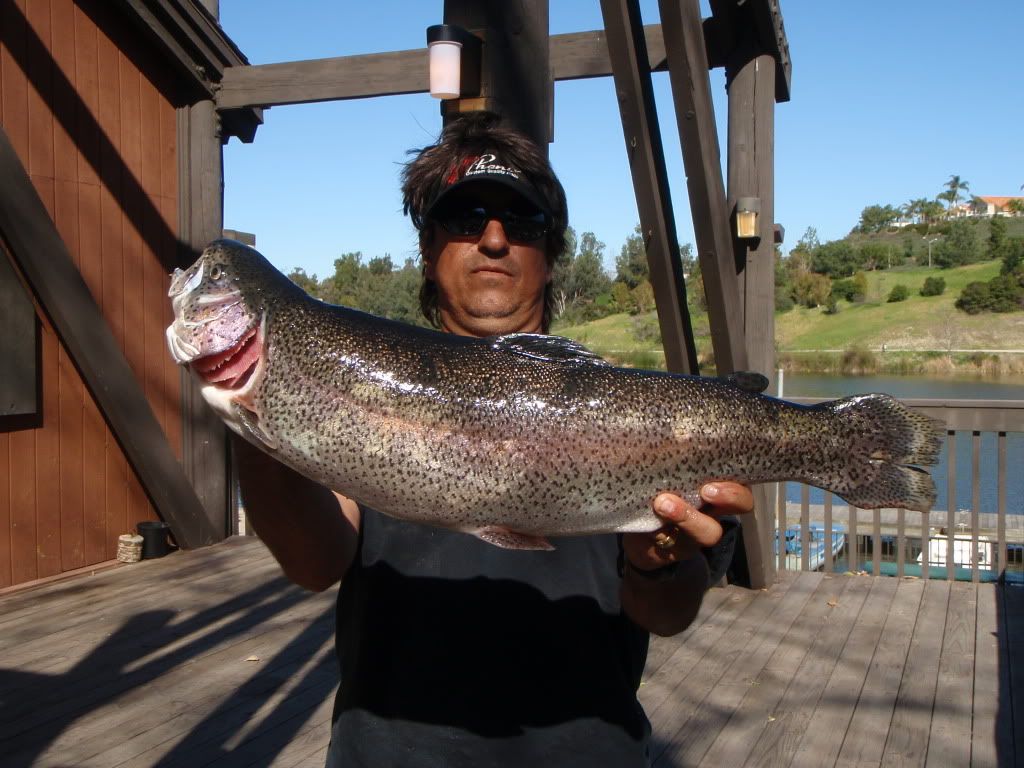 Total stringer weight of 17 1/2 pounds
Best day of trouting this year for me by far. I'd herd about these kind of days at LNL but I never saw them and with all the hype I had to wonder, well wonder no more as it realy is possible to have a 20-40 fish day. Cant imagine what it would be like for the afternoon bite and what kind of fish tally was possible. Go get'em guys. All fish where taken on a Yellow/White minijig fished on the bottom with a 1-2" slow rod tip twitch and a super slooow retrieve. Weapon used was custom 10' Shikari noodle rod with a 2500 size reel loaded with straight 4lb clear Ande. Hope it helps.
Tight lines,
B