Got up early this morning to go make bait and then hit the spot. Last day the window was going to be open for me for a while. Anyway, made 30 to 40 perf GS in about 45 min and then ran to the spot. Walked up and no one was on the sand. Sweet !!! Started pitching and dragging GS, About 30 min goes by with no action. Was wondering if I missed the bite when I felt a thump on the line. Set the hook and ZZZZZZZ first hookup of the morning. Short fight and a nice clean 17"er hits the sand.
17"er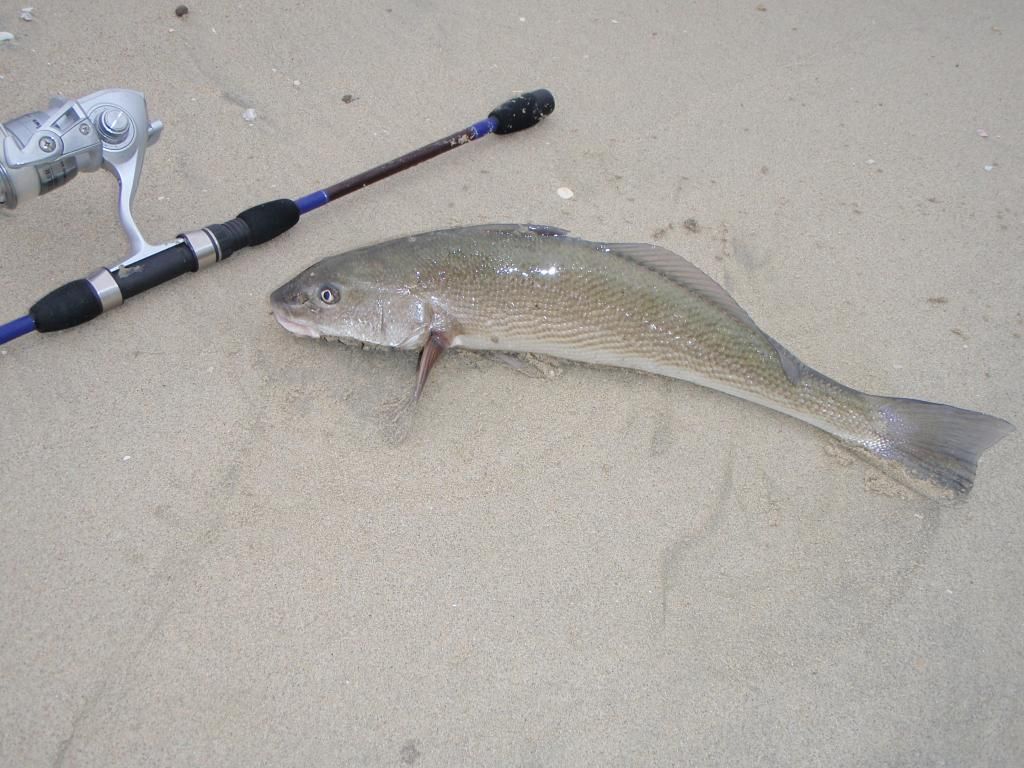 17 mug shot
Quikly retied all my knots, rebaited and went back to pitching and draging. Short while later and thump thump and ZZZZZZZZ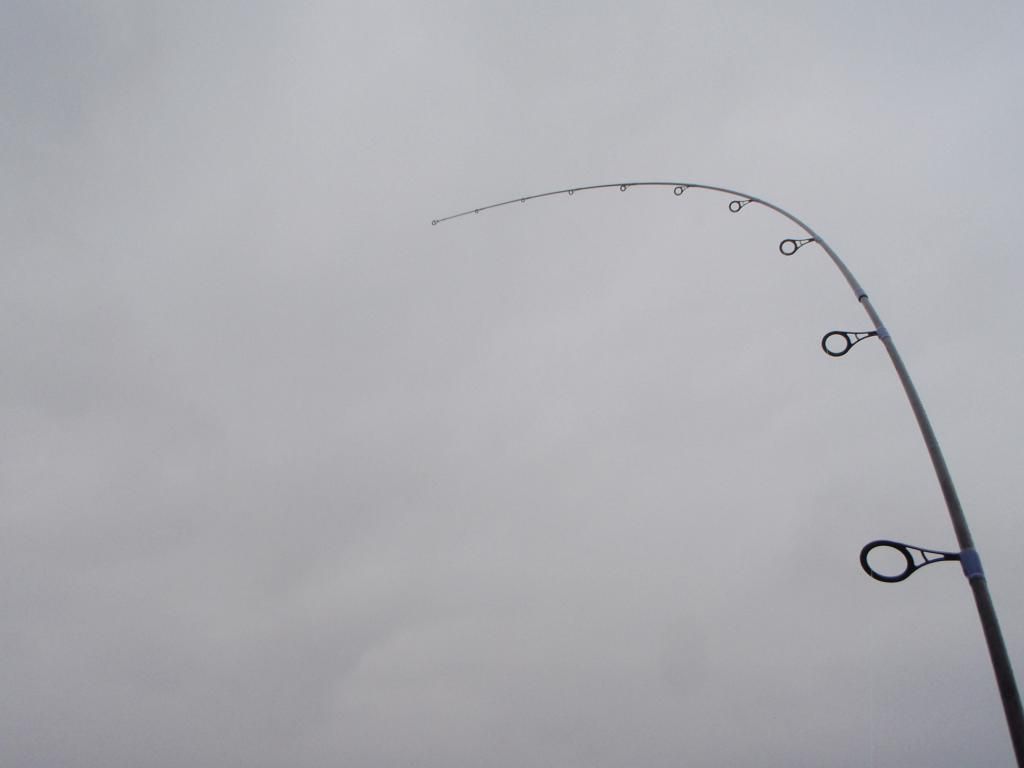 Fish on !!!!!! Little beter fish and a way beter fight this time. Finaly work the chromer into the shallows and then onto the sand. 19 to 20" model corbina.
Corbina #2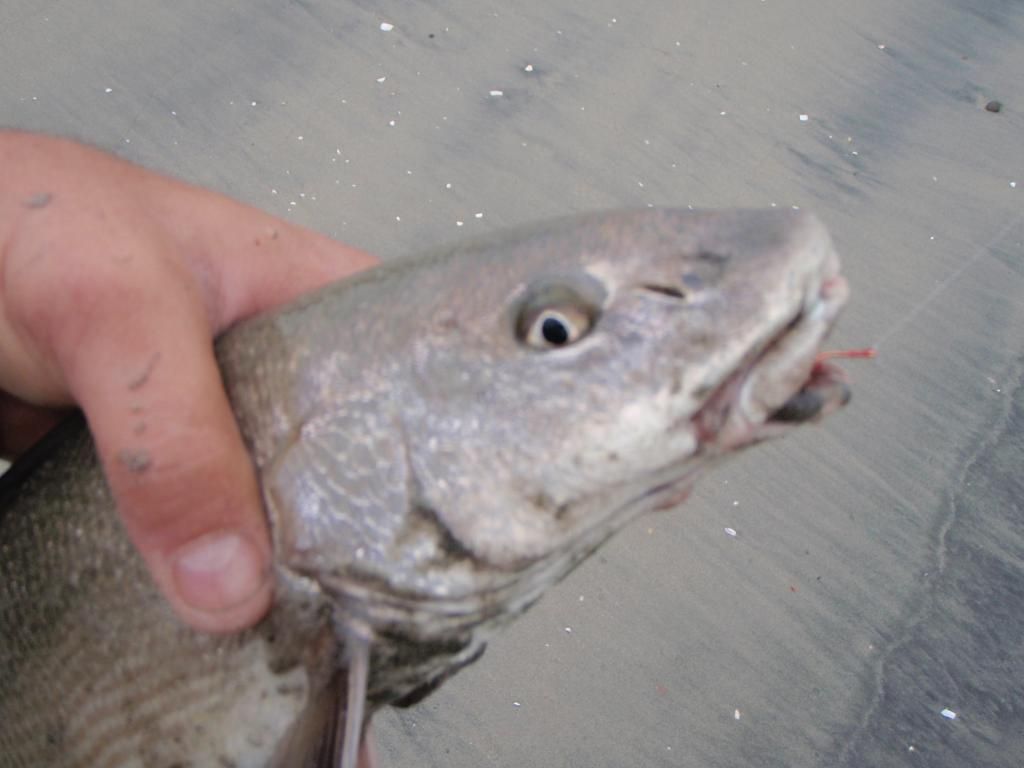 Side view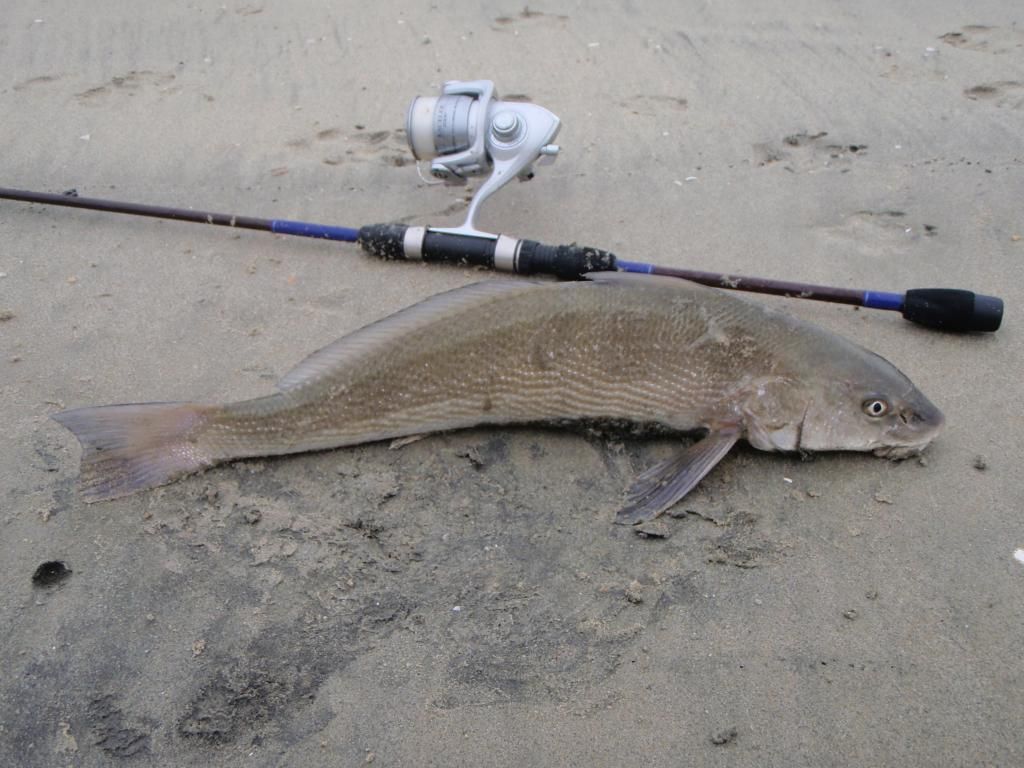 Man. was stoked to pick off two but now things get interesting. While working down the hard edge of a drop off I see a flash of a 2' corb moving L-R just 6 or 7' in front of me. Stopped me in my tracks but I managed to get my bait in without spooking the fish and repitched about 15' in front of the fish and just let the bait sit there. I was shaking just thing of the monster hitting my bait when snapppppp!!! the line goes tight and a silver bullet darts out of the shallows and back out into deeper water. Solid drag burn for what seemed like forever. fianly get the fish turned and for the next 10- 15 min try and work it into the shallows. Finaly get the monster to the waters edge but just cant get a grip on it. 5 min later she's finaly beached and she's a monster 24"+ fish.
Tanker !!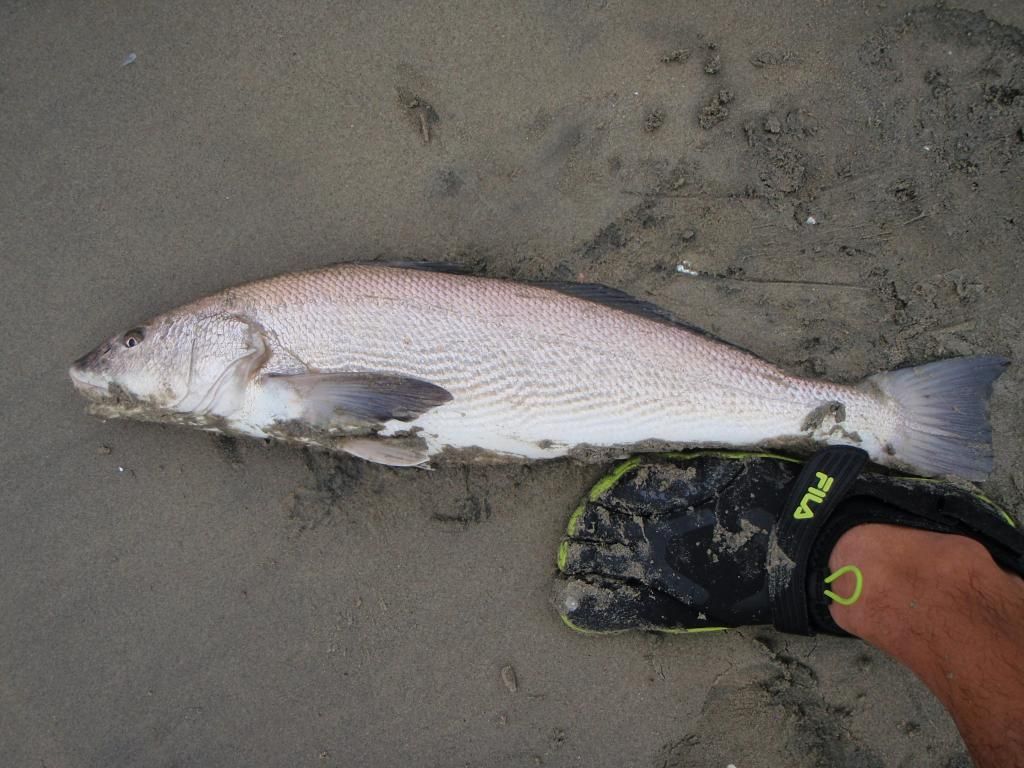 another shot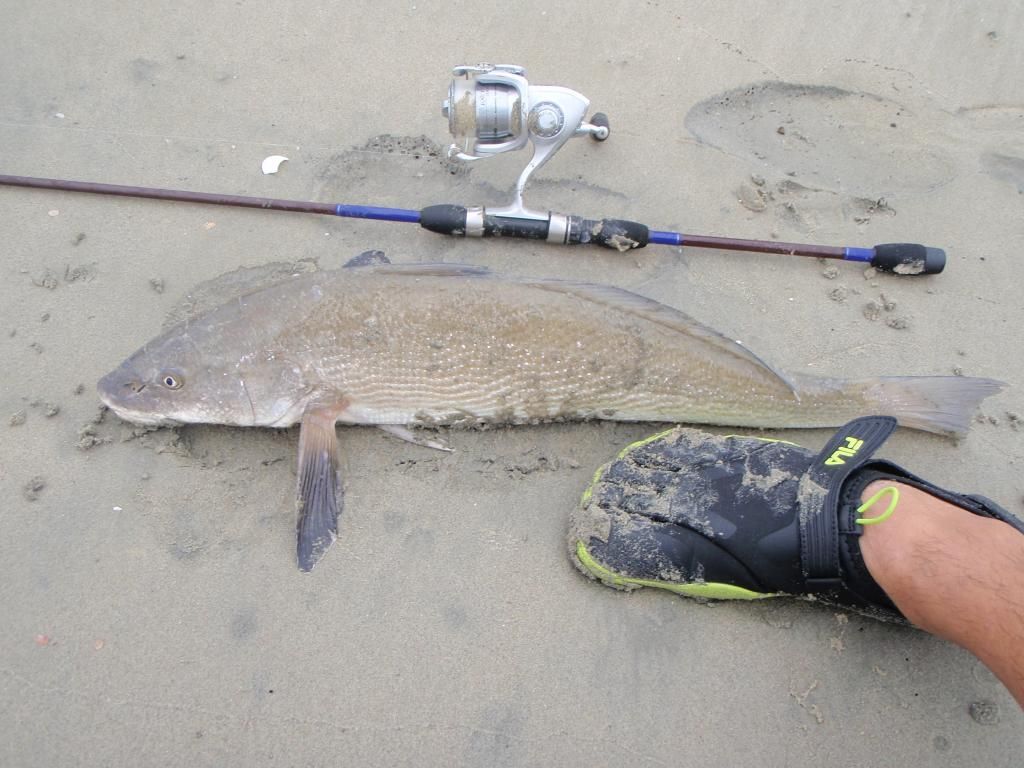 Lady was walking by and I got her to take a glory shot for me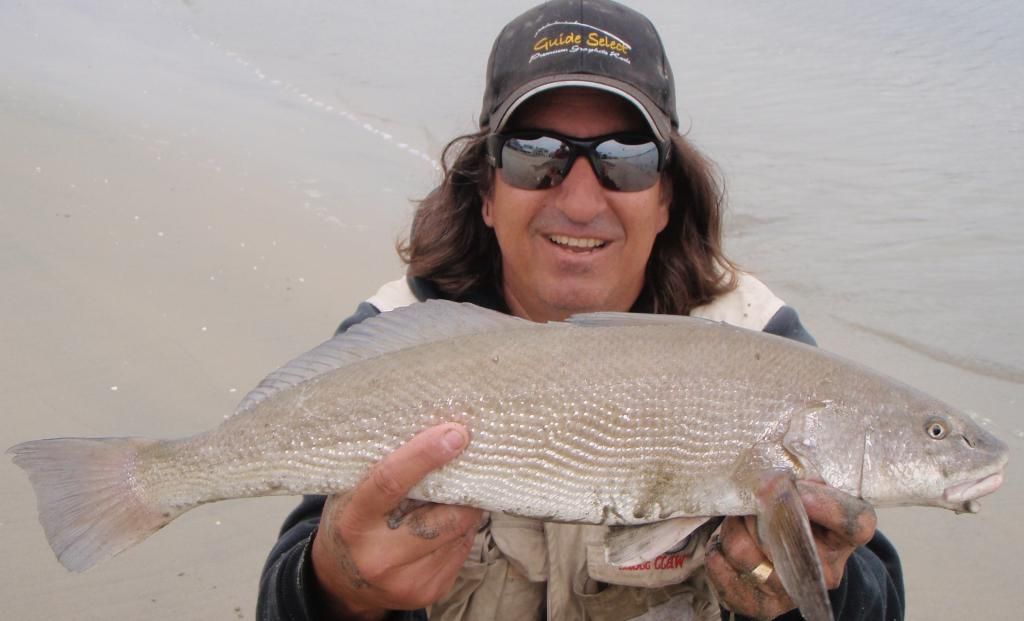 Best pic of them all, the release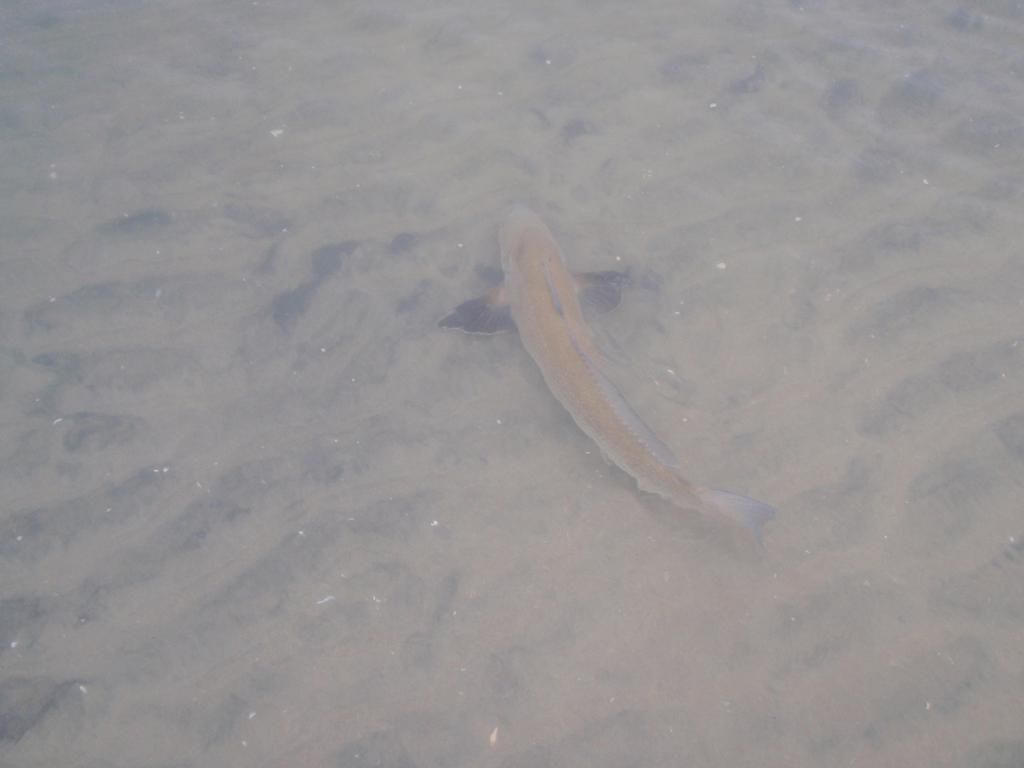 Still shaking I called it a day after that fish.
Used a 9' 4-8# custom rod I made, Daiwa Exceller 2000 spinner loaded with Izor 4# clear, 1/4 pounce slider, 24" Seagaur 4# flouro leader, #6 red Owner mosquito hook and frsh caught ghost shrimp for bait.
2013 corb count
4 trips, 5 corbina
score card UnReel 5 , corbina 3
Tight lines,
B
This message has been edited. Last edited by: UnReel,