Jammed a bit early from work yesterday so we could go round up some bait for Andy (new Charkbait employee) and Brandon (co manager at Charkbait) and myself to fish with this morning.
Bait made for this mornings session
The tide and moon phase is the same as when we got our spotfin last month so the plan was to hit the same place at the same time. Well as you'll see below it paid off.
The three of use arrived at the spot just after sunup and conditions looked great. 2-4' surf, clean clear warm water, no wind
and not many surfers. We posted up on a little sand crab bed and it was almost instant on hand size BSP's for all three of us. I finally get a better biter and after setting the hook thought I had the right kind. the fish worked me up the shoreline a ways and then we got a glimpse of it, damn smooth hound shark.
Smooth hound shark about 2 1/2 feet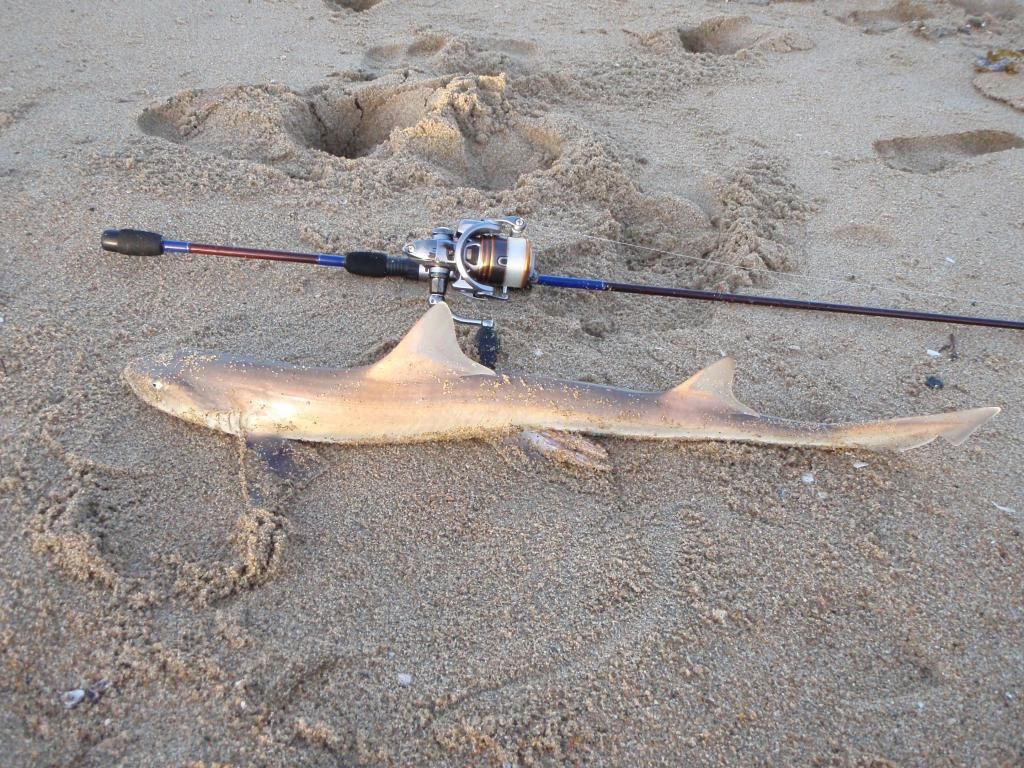 Released the shark and went back to fishing. More BSP's and Walleye like these below for all three of us thru the session.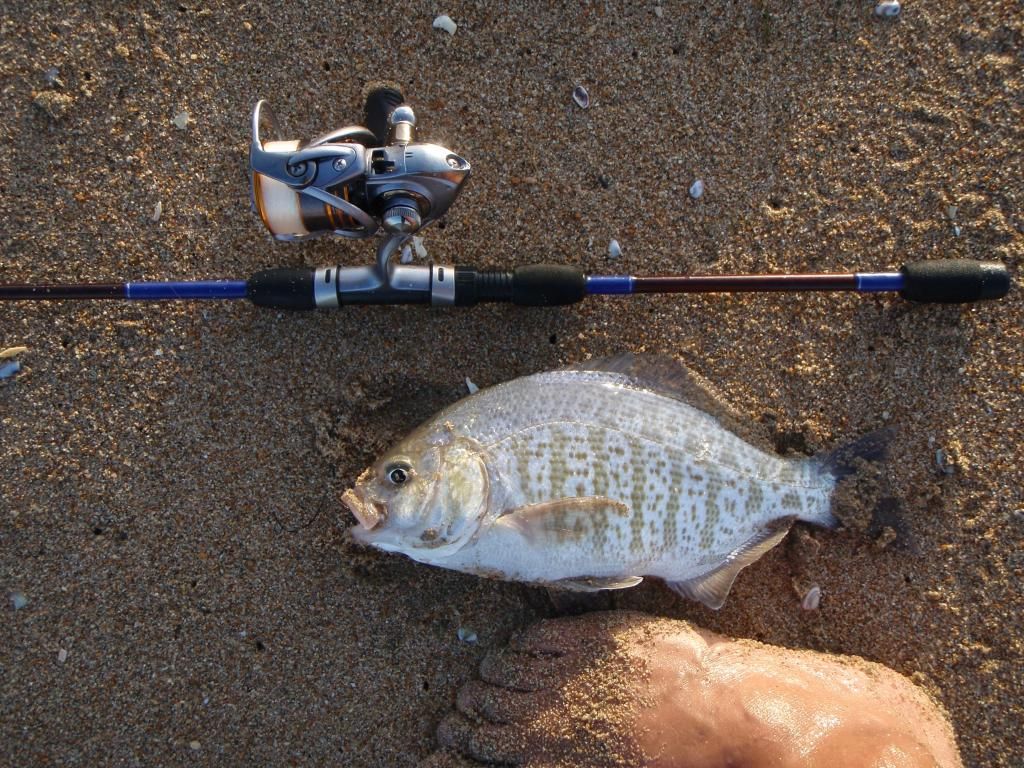 I'm fishing next to Andy when he gets bit and sets the hook only to have the fish take off and pop his 4# leader. Bummer. At the same time Brandon makes a short move down the beach about 50' or so and a few minutes later I turn around to see him in full bendo. He worked the fish up and down the beach for a bit and then this hits the sand.
Brandons 22" spotfin
Hero shot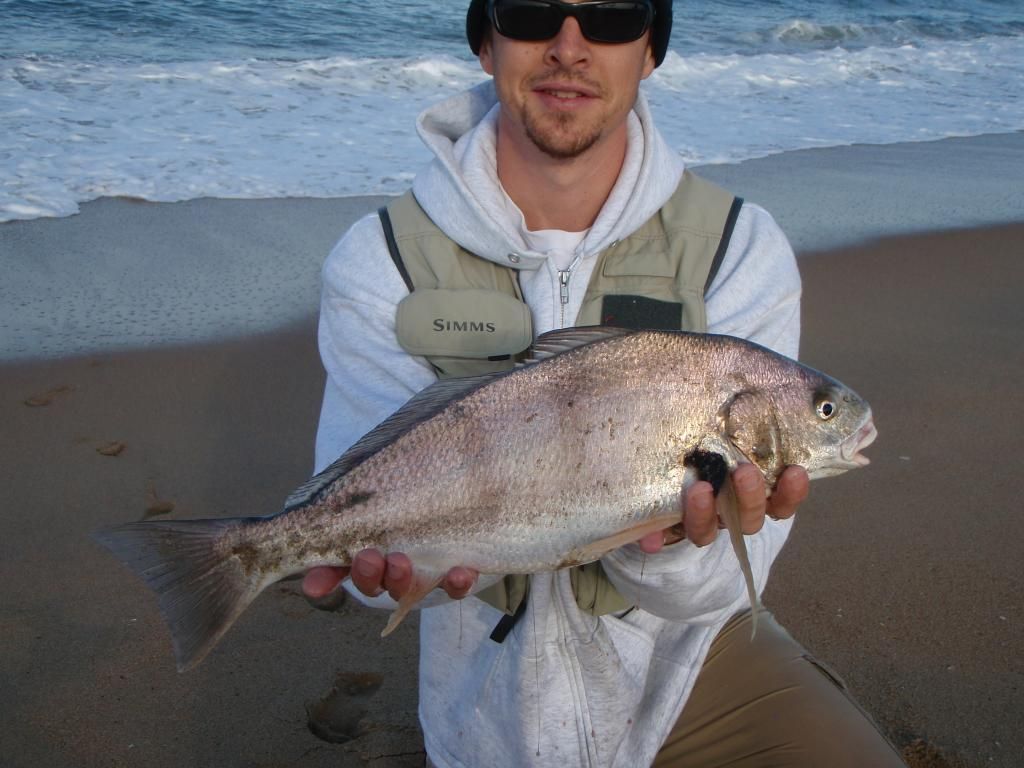 Stoked for Brandon to get another quality spotfin and it shows how easy you can pattern these fish. He released the fish and again it was back to pitching ghosties. Short while later I get bit and its pulling hard and peeling line. Thought I had a small/ medium spot the way it was fighting but to my surprise it was a monster BSP.
Tanker BSP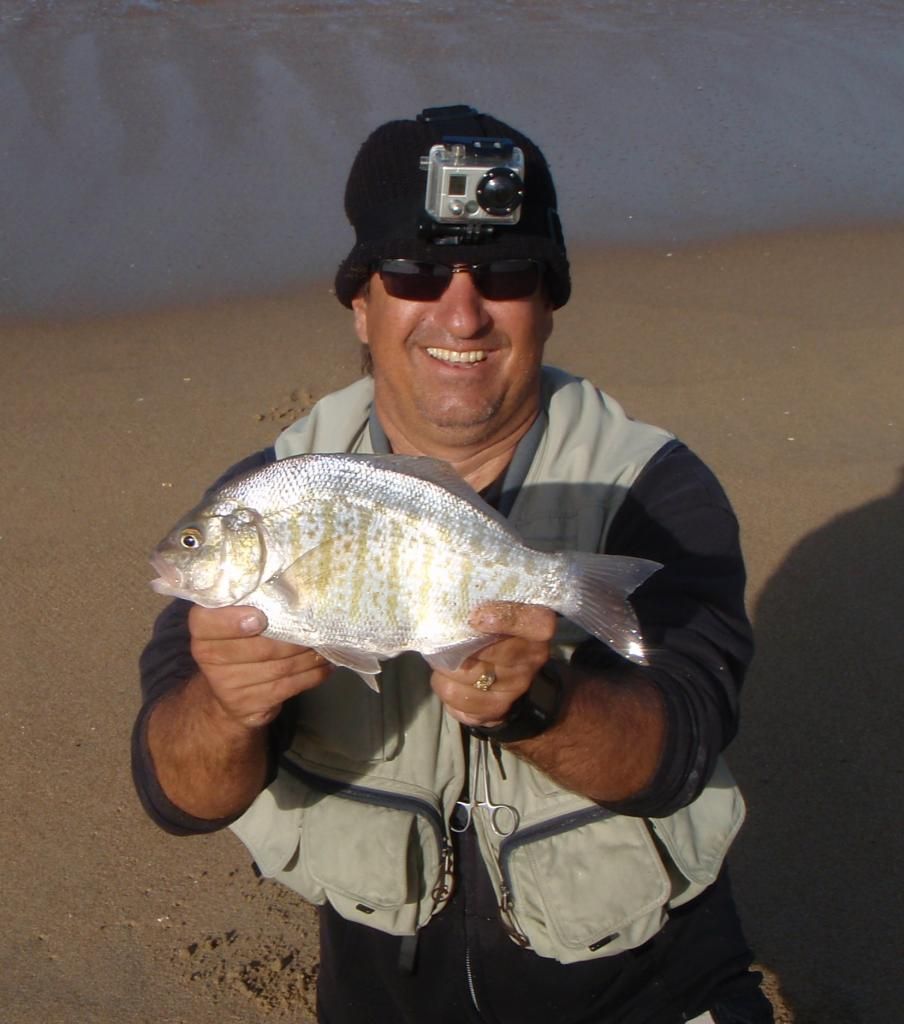 Releasd the BSP and it was back to fishing. Nothing but more BSP, walleye and a couple YFC after that. Called it a day at 9am and Brandon and I went to work. Lucky Andy has the day off.
Great day on the sand and its good to see conditions coming back together on the beach.
Total fish count for the three of us
one 22" spotfin
one 2 1/2 foot smooth hound shark
2 YFC
8 or 9 Walleye perch
roughly 30+ BSP to about 15-16"
All three of us where using Shikari custom noodle rods for 8-9', Daiwa 2000 spinners, 4# izor clear main, 1/4 ounce slider, small swivel, 4# seaguar fluoro, #6 Owner red mosquito hook and ghost shrimp and mud shrimp for bait.
We're taking the weekend off and will be back at it next week
8)
Tight lines,
B