The tides have been all wrong for me to make bait the past week and a half and same with the morning tide, way to high for the spot I've been getting the corbs at. Well the tides finally worked into my fishing and bait making windows so Sunday I drove to the GS spot and worked from 7am until 9am for 30 small pieces of bait to use Monday morning on the incoming tide.
Up at 5am on Monday morning. Loaded up th car, ran and grabbed a coffee and then it was off to the spot. Started working the shoreline pitching and dragging GS at 6:30am and a couple casts into the session I got another fan tailed sole (aka two spot sole)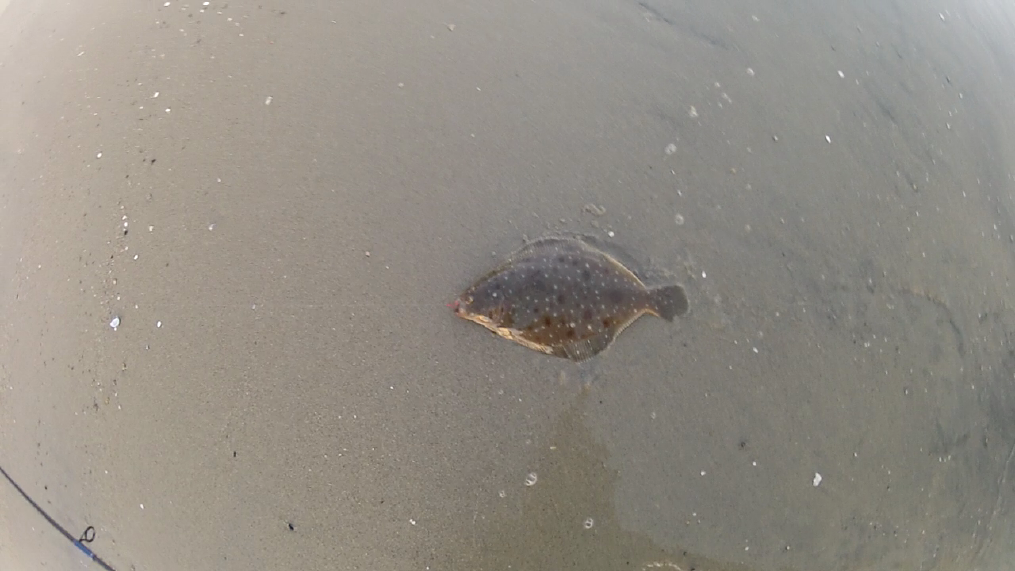 Released the sole and went back to work. unfortunately junk (lizardfish and giant jack smelt)had overtaken the spot so I moved to another spot nearby. This spot the fish are in tight ,roughly 10 to 15' off the sands edge on the inside of an eelgrass bed. Not much water to work with since the tide was low and after two casts I had second thoughts about the spot but if there was one around that's where he should be. Well a cast later and tap and ZZZZZ I'm on and its the right kind. Nicer model around 20".
Corb 1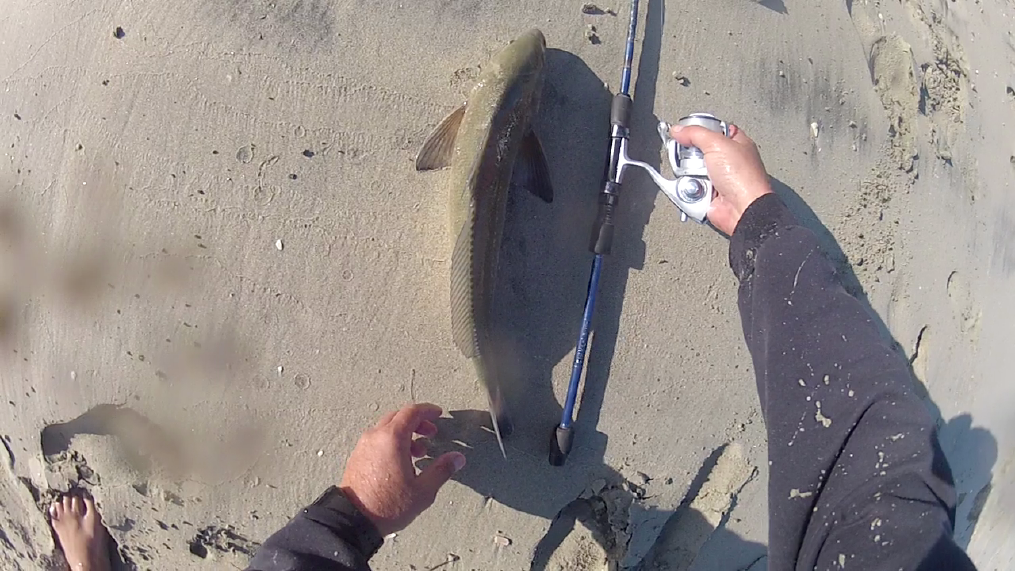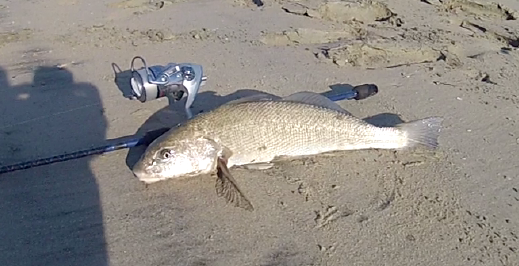 Released the fish and went back to working the sand but the conditions changed so I went back to the original spot.
About an hour into fishing and bam ZZZZZZZ I'm on again. Tough little fish but it's finally beached. Around 17"
Second corb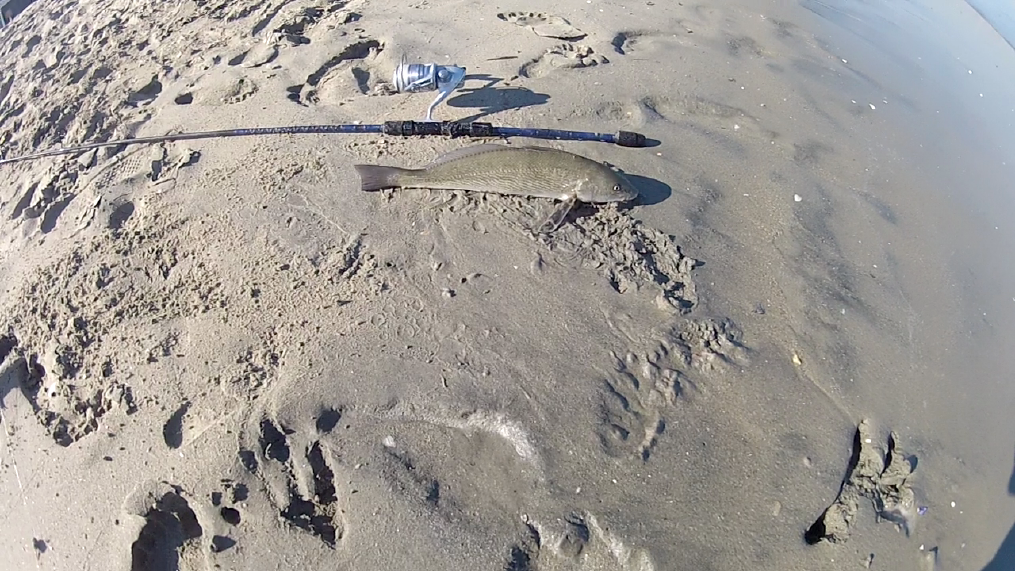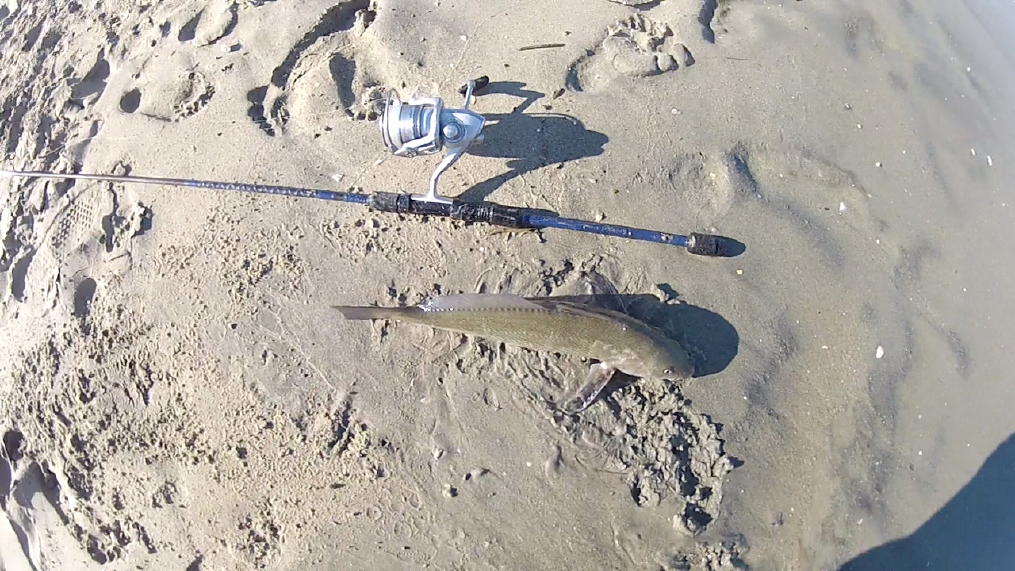 Sweet a two corb morning. Two casts later and bam ZZZZ I'm on again and its a beter fish. fight it for about 5 min and tick the line goes slack. Oh !!!!. Real the line in to find my 4# fluoro leader had popped. Bummed to say the leaset but I should have known as I found my leader material is about 5 to 6 years old and it's brittle now. Have lost a couple nice fish this year to that bad line. It's in the trash now LOL!! Anyway called it a day after dumping the third corb but still way stoked to land two. Off the sand till next week but things look good
All fish caught on the 10' shikari noodle rod, Daiwa coastal 2500 loaded with Izor 4# clear mono, 1/4 ounce slider, micro swivel, 30" Seagaur 4# fluoro and a Owner red #8 mosquito hook with a small 1 1/2 inch GS that's pitched out and slow dragged back in.
tight lines,
B
2014 corb count
4 trips for 5 corbs (top 20')
This message has been edited. Last edited by: UnReel,