Met up with Brandon ,my coworker from Charkbait , at sunup on a beach in north O.C. He had made about 40 GS the previous day and we where set to put them to good use this morning. We haven't fished in a couple weeks but we have stopped by a few spots on the way to work each morn to do some scouting and we have been seeing good signs of the right kind
s o we where pretty excited to give it a go this morning. We hit the spot and fund no body was around, sweet !!!. First cast and I'm all ready bendo and as I turn to tell Brandon I see he's hooked up on his first cast as well. My fish turned out to be a butt about 16 to 17" and Brandon beached a solid 15 to 16" YFC. about 30 min later a few BSP's caught and released I finally get another solid biter. Set the hook and all I feel is dead weight. Fighting current and tide I finally get it to color and a nice 25 to 26" butt hits the sand. Saweeeeet and on 4#
. About 30 min later and again I get a bite and it feels like the right kind this time. I let the rod load up and then set the hook and man o man did this corb smoke me and my 4#. Straight loooong drag burning run straight into some structure and he breaks me off. Whew did that get my heart pumping. As I was retying my line I look up to see Brandon set the hook on a nice fish. Put my rod up higher on the beach so I could help Brandon with his fish and after a nice 10 to 15 min battle he lands a nice spotfin. I'm guessing at least a 20" fish. Couple pics and its released. Few more BSP caught and released for both of us and them bam ZZZZZZZ I'm on again and after a nice tussle get the fish right to the sand bars edge and the fish rubs the line on the bar and before I could see what I had zing pow I dumped a second nice fish. Couple more BSP's for us and then we had to leave to go open the shop.
Few pics of the butt, around 25 to 26"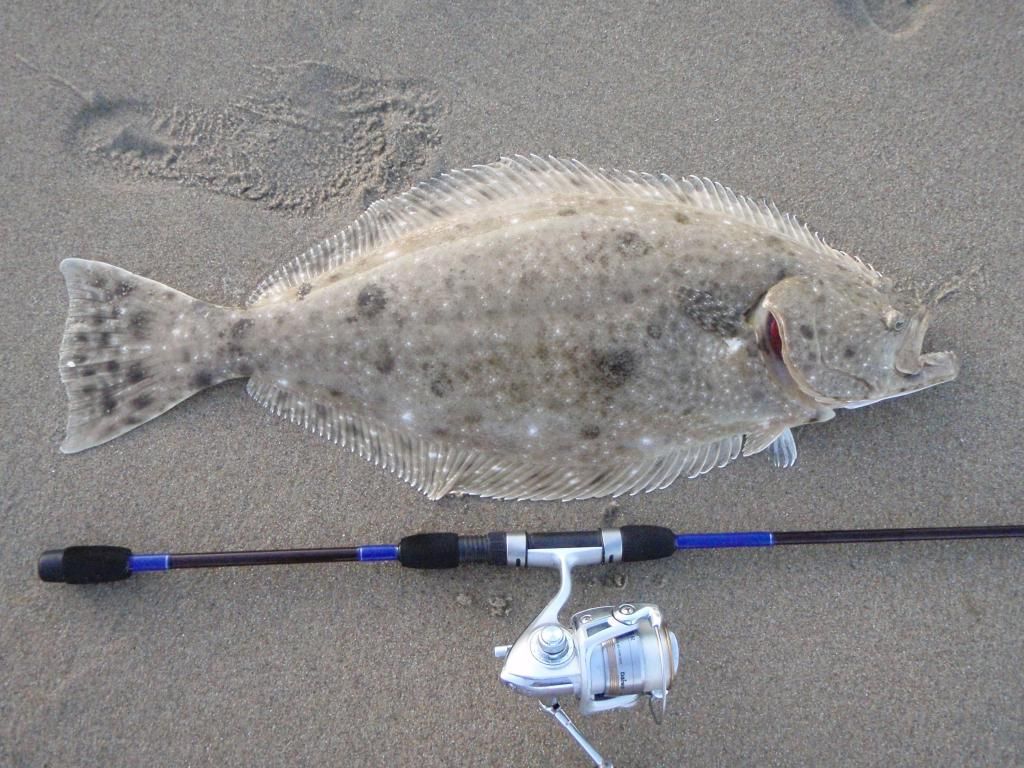 Getting ready to go crazy on the sand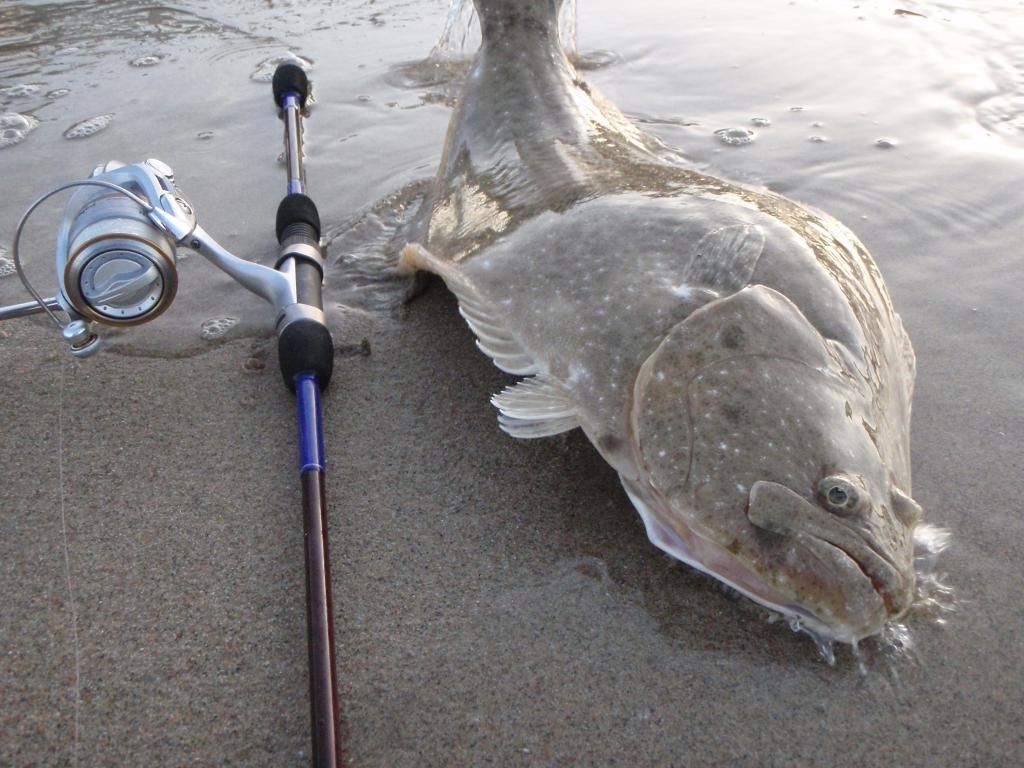 A few BSP like this where caught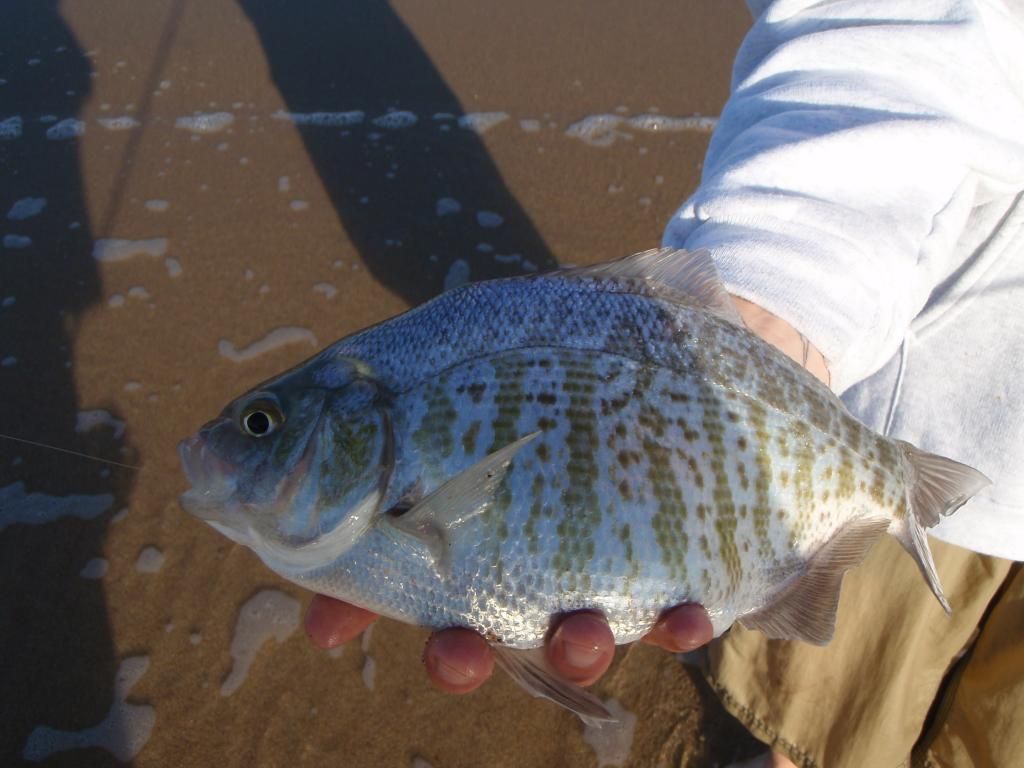 And Brandon got this nice spotfin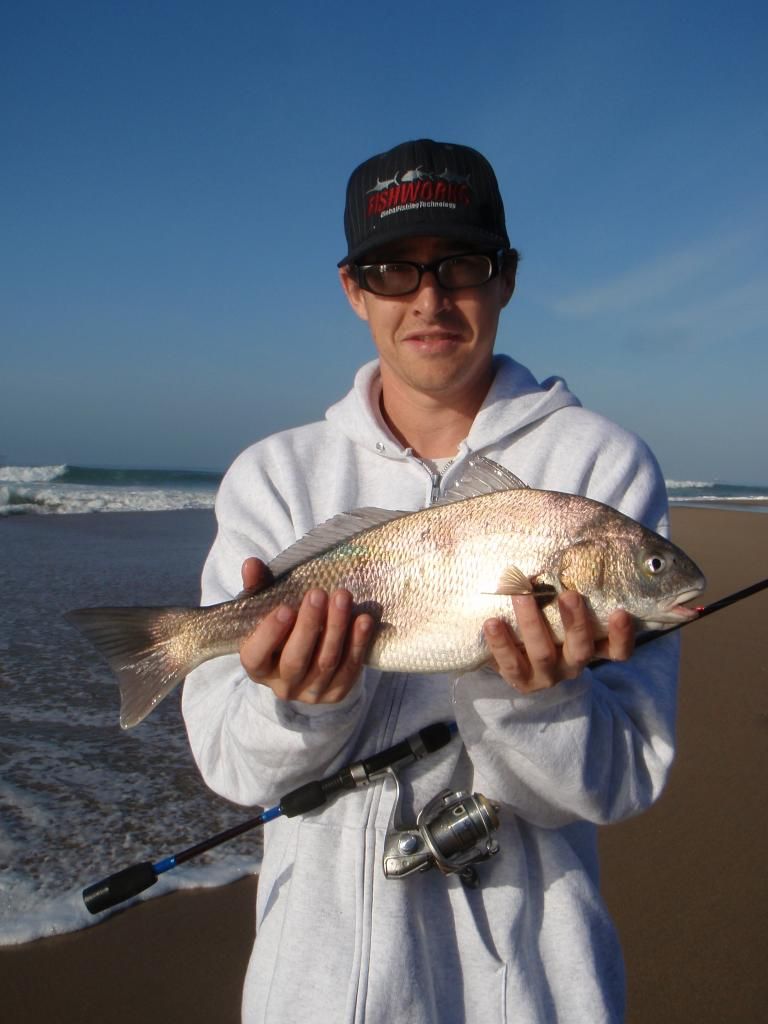 Nice morning on the sand. We fished from 7 to 9am. We both used 9' custom shikari 6wt noodle rods , small 1500 and 2000 size spinners loaded with Izor 4# main, 1/4 ounce slider, small swivel, 30" 4# seaguar 4# fluoro leader, #6 red owner mosquito hooks and fresh caught ghost shrimp for bait.
Fish count for the day
2 butts ( one at 16"to 17" and one around 25 to 26")
1 spotfin at around 20"
1 YFC around 16"
12 or so nice BSP
2 major zing pows on big fish
Going to be a fun year,
B