Had the day off yesterday and Dean (BankRobber) did to so we went corbina fishing. I had some bait but not enough for both of us so at sun up I went and ran to a couple spots to round up a few more ghost shrimp for us to use.
I arrived at our meeting point at 8am and saw Blake (also from Charkbait H.B) working the shoreline for butts. He had a couple on a new lure he was trying but its still top secret so I wont name it. Anyway, Dean made it to the spot around 9am or so and got geared up. About that time I got my first bite and it was a good one.
ZZZZZZZZZZZ
It was a corbina and a nice 22" model but the hook pulled while I was trying to take some pics. Bummer !!!! Rebaited and went back to work. By this time Blake had left to go to work at the shop so it was just Dean and I. We worked the area for about 5hrs for nothing but a couple big top smelt. I kept telling Dean how I thought it was going to pop at the turn of the tide as the shoreline was so solar heated from the sun that the ground was steaming. Well at 2:15 (turn of the tide) I got bit again. Finaly !!!! and it was the target species.
Working'em in
Almost on the sand
Gotcha, 16"er and picture time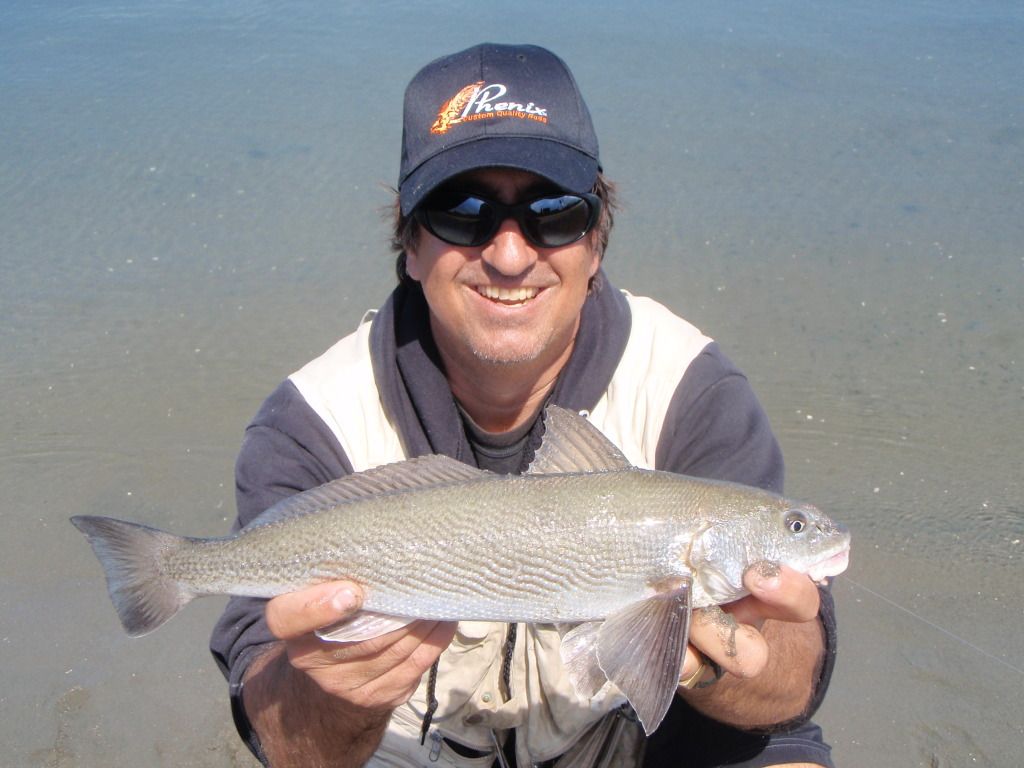 Sweet!!! streak continues. Short while later I see Dean cast out and get bit instantly. He slowly worked the fish into view,
another nice 17"er
Dean and his 17"er
Dean had a couple other shots that where missed and then he had to jam. Right before he split though we saw a toad cruising about 10' away in about 2' of water but we spooked it off before we could get a bait to it. Well after Dean split I hung out in the area waiting for the fish to circle back around. About 10 min later I see a shadow come into view. BIG CORB!!!! but it just swam on by. Seeing fishing in the same spot twice I tossed my GS about 8 to 10' in front of me and watched as two beasts swam into view about 10 seconds later and then swam right over to my bait and then slowly away from me. At first I was bummed as I thought I missed my chance but then I realized my line was moving off toward the two tankers. never felt a bit but I lifted the rod and saw a flash and then ZZZZZZZ it was off to the races again on a Big'n.
Hookup
Fighting tuff
Oh man !!!
Gotcha !! nice 24" + corbina
release pics
Swimming off
And before she swam off she let me take this killer underwater portrait of her , maybe a thank you for letter her go.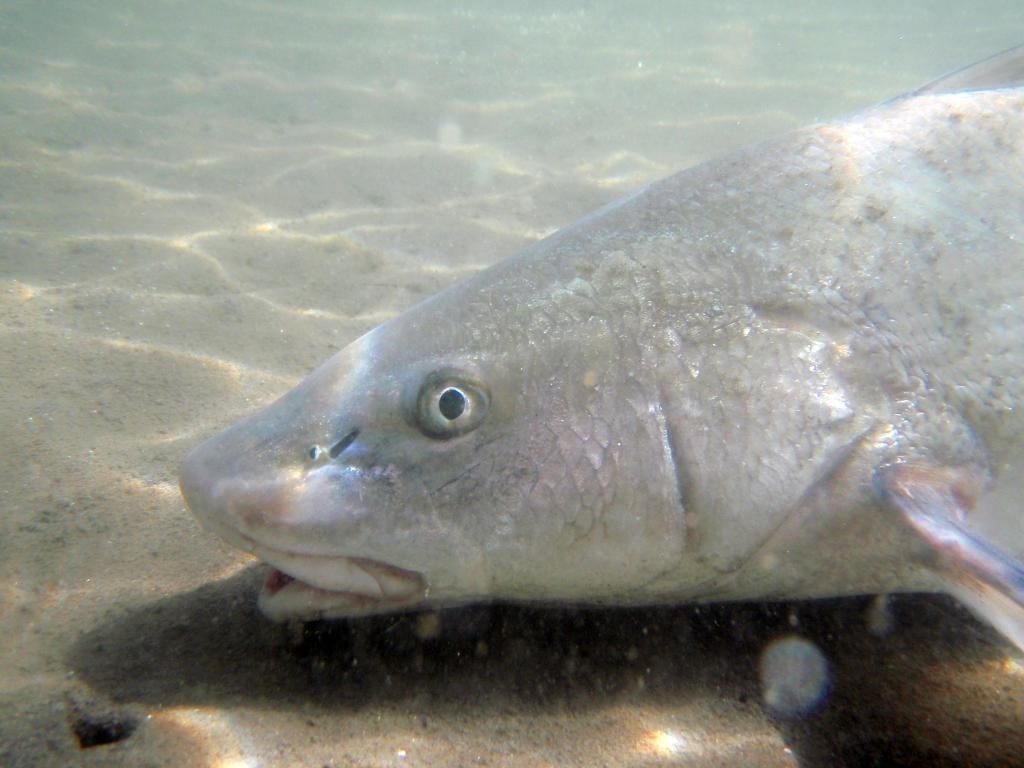 Long hard day of working but we finaly found'en and got them to bite. Fun stuff forsure.
11 trips for 21 corbina in 2012
Tight lines,
Behdad
This message has been edited. Last edited by: UnReel,