I got the opportunity to be the charter master on the Charkbait 1.5 day July 13th trip on the Eclipse. Had a great time on last years trip and I was really looking forward to this trip as the BFT and YFT and YT where all biting.
I arrived at Seaforth sport fishing at 5pm and it was great to hear that everyone on the trip had checked in all ready so we where good to go. At 6pm we all boarded the boat and shortly thereafter made a short run to the bait receiver to add some 4-6" sardines to the anchovies that where all ready in the boats bait tanks. While tied up to the bait receiver Capt Adam Williams went over all the boats safety gear and then we where off for the tuna grounds.
At sunup (roughty 5am) we where in the zone and Capt. Adam set us up on a sonar mark and we went to work. Guys fishing the heavy knife, slash and megabait type lure where recommended to fish 40 or 50# line and the bait guys where recommended to fish 30 to 40# early. Didn't take long for the guys to start catching fish. Couple small yellows came over the rail. a small YFT hit the deck then the BFT ran thru and we started getting some hookups on a nicer grade of fish . Unfortunately most of the bigger grade of fish where lost but we did manage to land one of the 60 to 70# class BFT along with a few of the smaller 30 to 40# class fish. We worked this area over pretty good in the morning and then bite slowed so Capt. Adam decided to move offshore a bit more to try and find some kelps.
The kelps worked out o.k and we proceeded to add more YT , YFT and BFT to the counts. YT and YFT where caught up top with the BFT coming on the deep drop jigs or a nose sardine with a 2oz chrome torpedo dropped down to about 20 fathoms. We fished the kelps for a few hrs before finding a pod of Porpoise. As we trolled into the porpoise we got a single jig strike that turned out to be another 60 to 70# class BFT. Think we made about 4 passes into the porpoise and each time we would get a double to quad hookup on the 10 to 15# class YFT as well a one or two bait fish. Pretty dang good YFT fishing but it was now later in the afternoon and Capt Adam wanted to head back inside to look for more BFT but I believe we just boated a few more YT. At sundown we reeled them in and headed for home.
Before I post pics of the trip I just wanted to mention how good the food was. We had French toast with raspberry's and blueberry's for breakfast, Killer BLT's for lunch , beautiful chopped fruit as a snack and Meatloaf, greens and garlic mashed potatoes for dinner. All good stuff !!!!
Here's a few pics of the trip
Anthony , one of the deckhands, with a early morning YFT caught by one of the passengers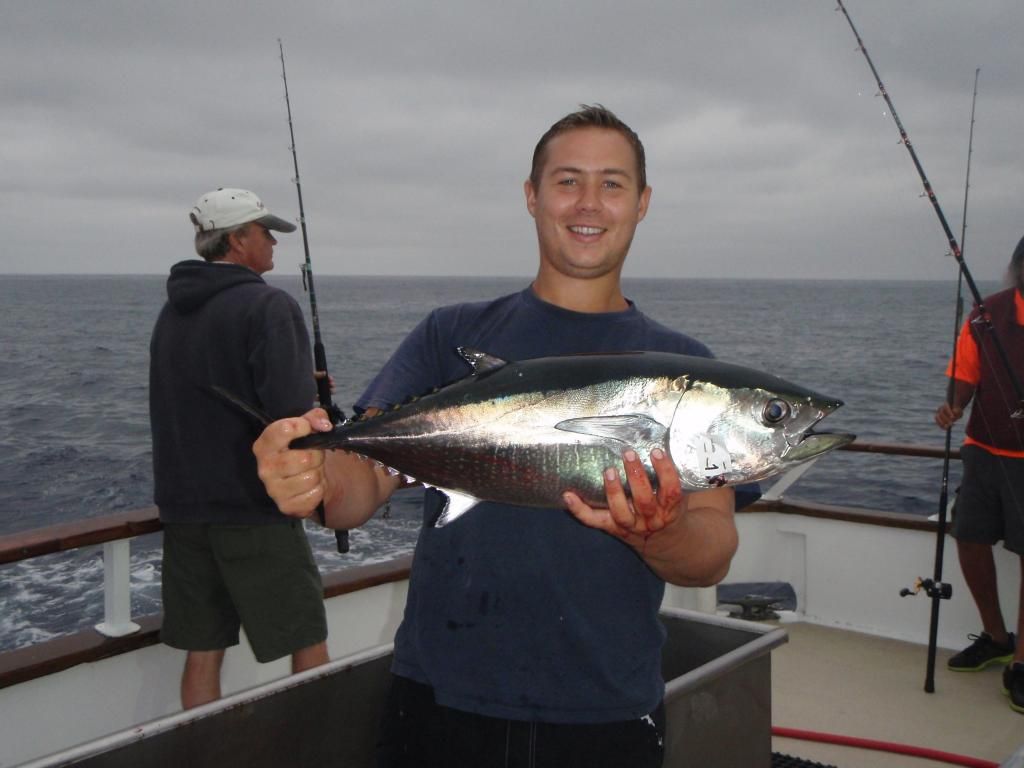 Myself with the two early morning BFT caught on a flylined butt hooked sardine on 30#
BFT in the kill box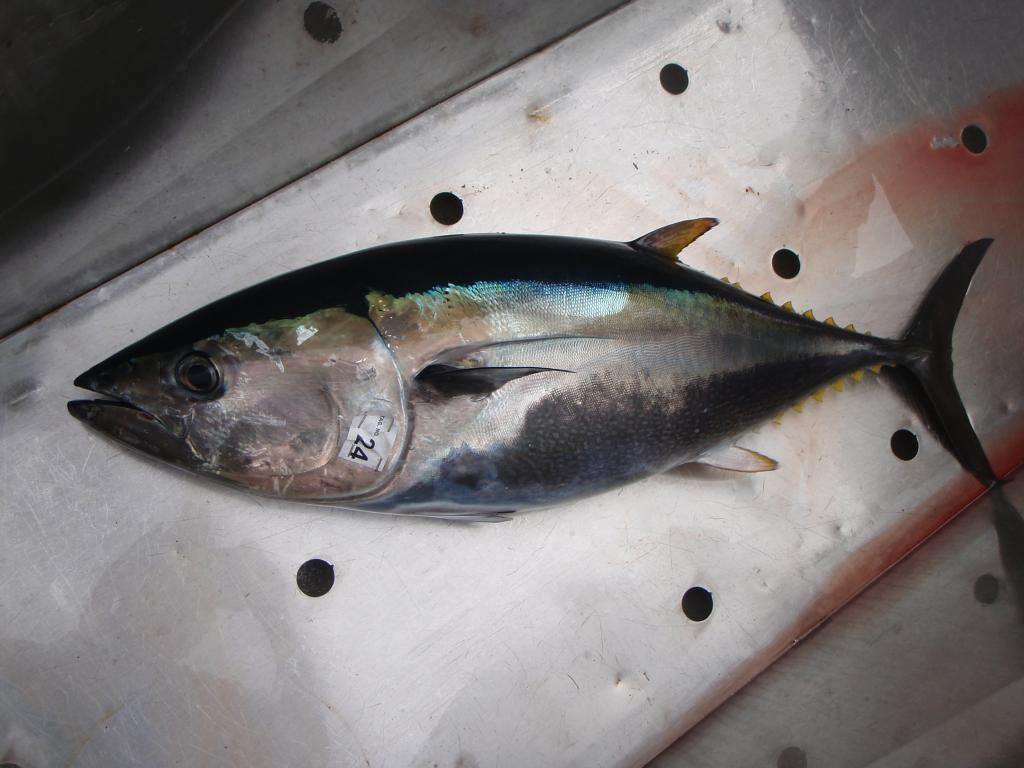 Young angler battling a small yellowtail I handed off to him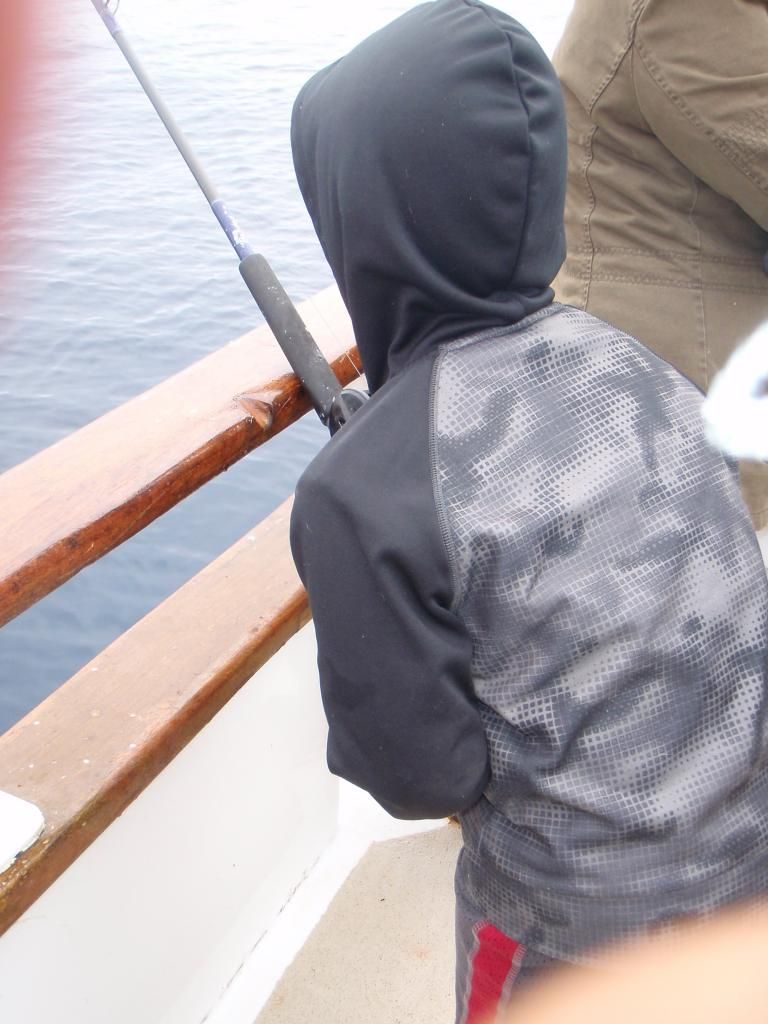 Big smiles for the young guy after landing his YT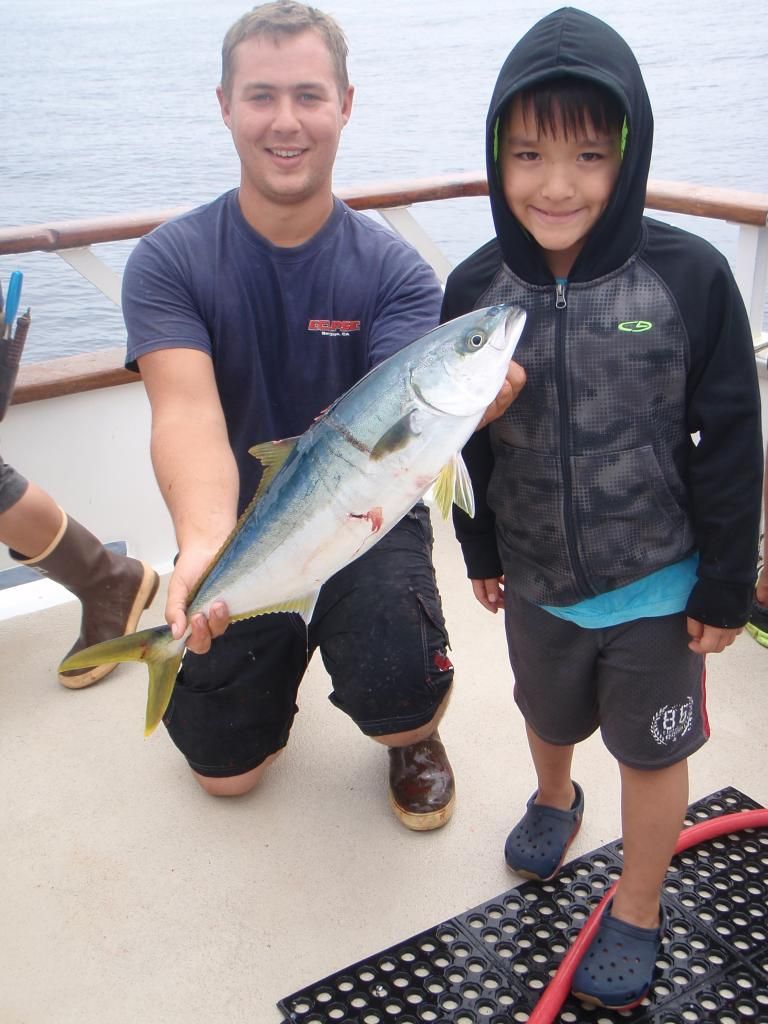 Pic of the aftermath of some YT carnage
Couple anglers hooked to the bigger grade BFT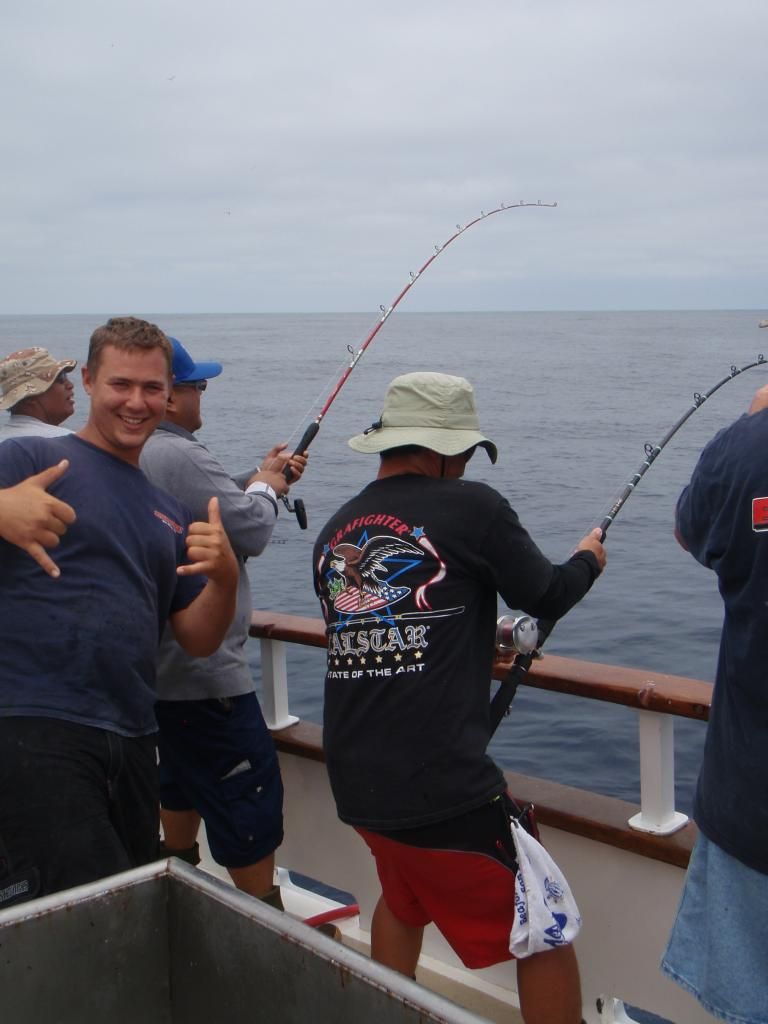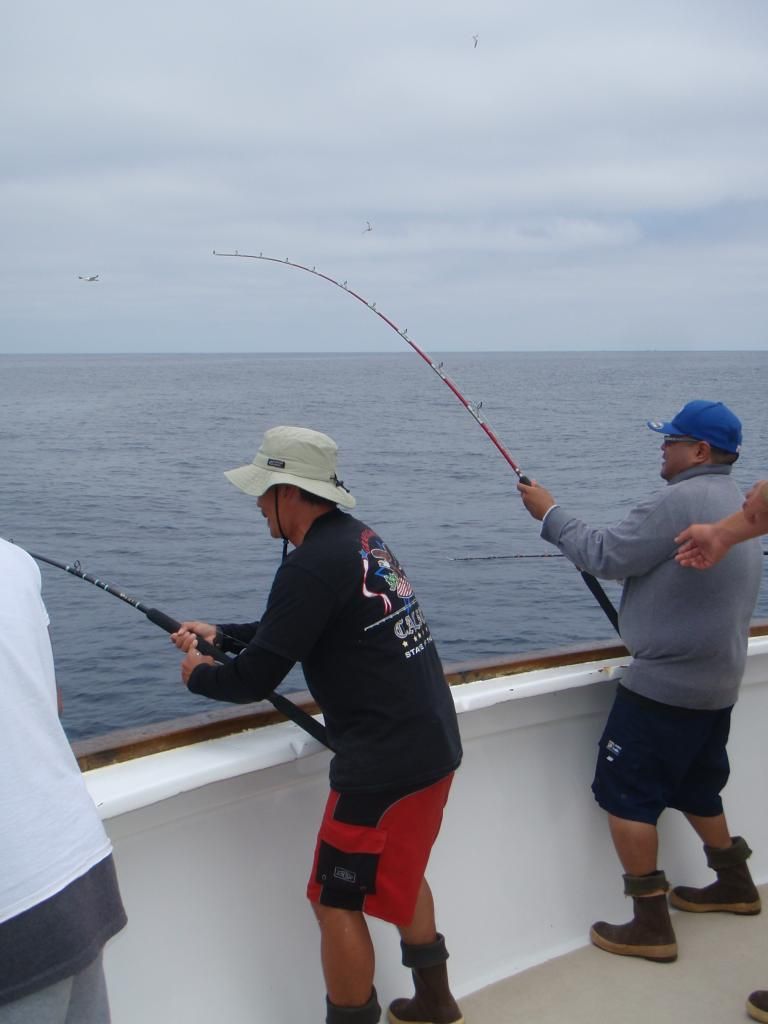 Angler (sorry forgot your name) that ended up with the jackpot 60 to 70# BFT. Congrats bud !!!
Glory shot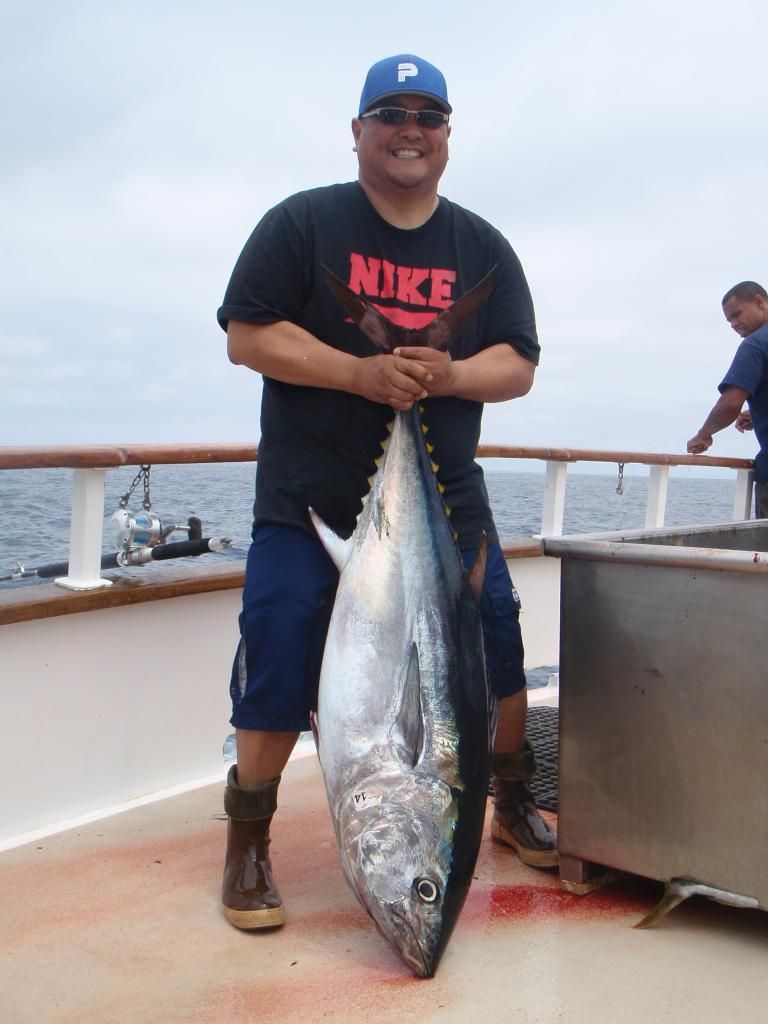 Myself with my top BFT of the trip, around 45#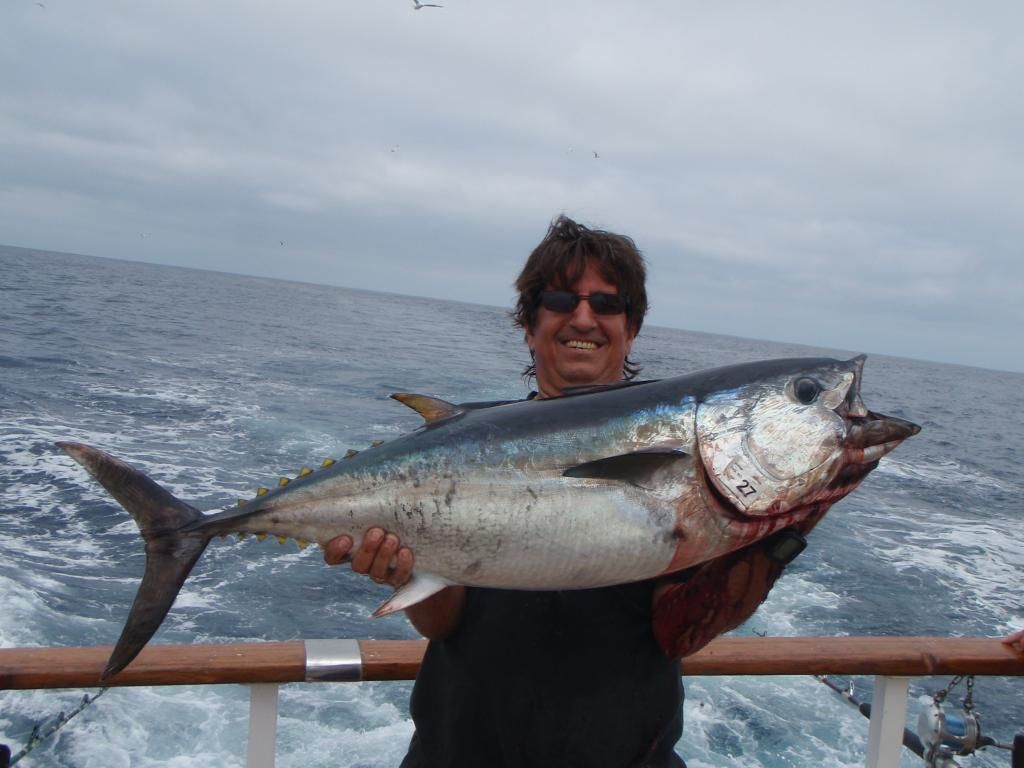 Kill box after the BFT carnage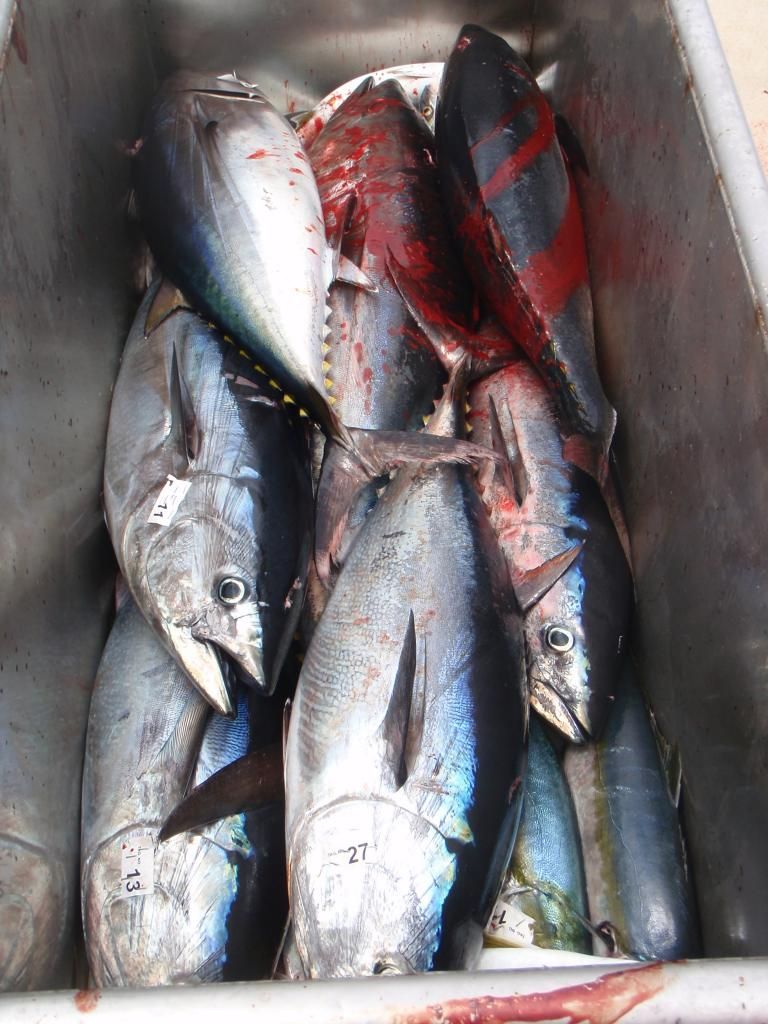 While trolling into a pod of porpoise the lucky angler hooks a 60 to 70# BFT on the troll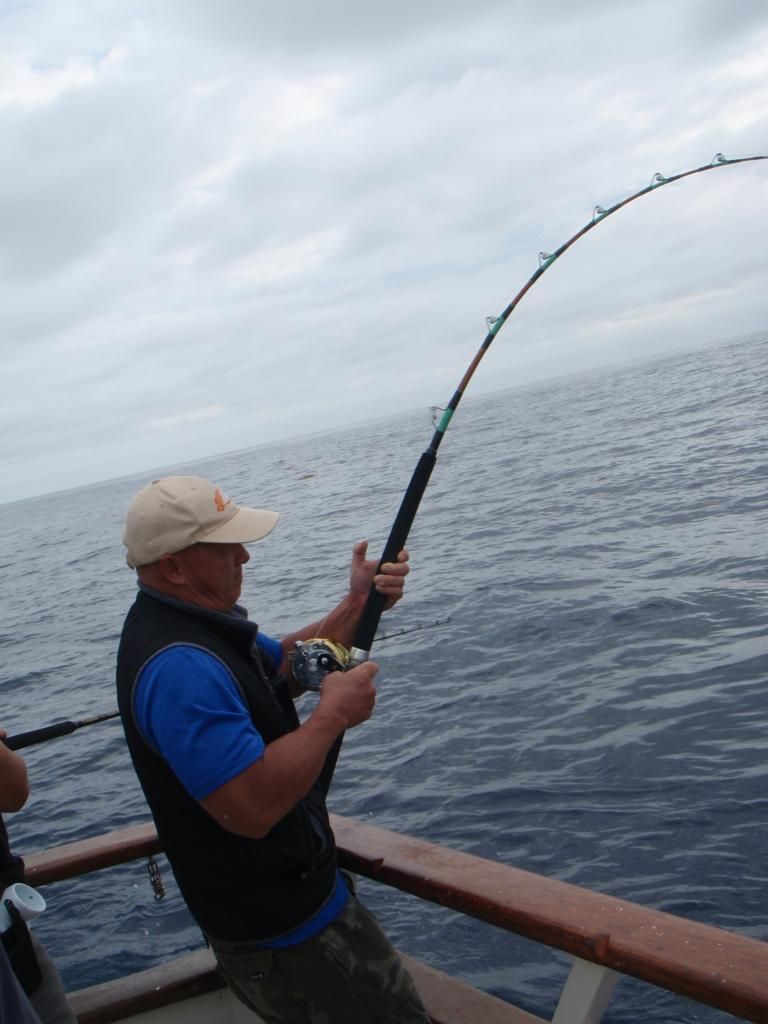 Big BFT on the gaff, deckhand holdinf the fish angler to his side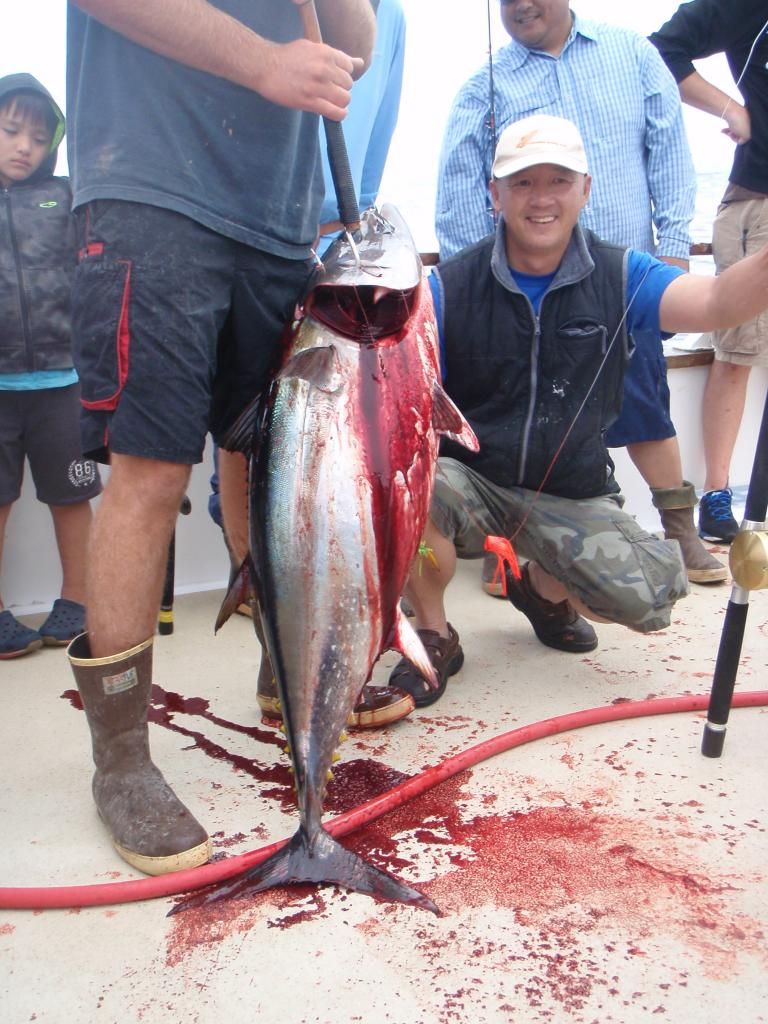 Anthony the deckhand holding the big BFT for the lucky angler who's giving the thumbs up.
Big BFT and small yellow for comparison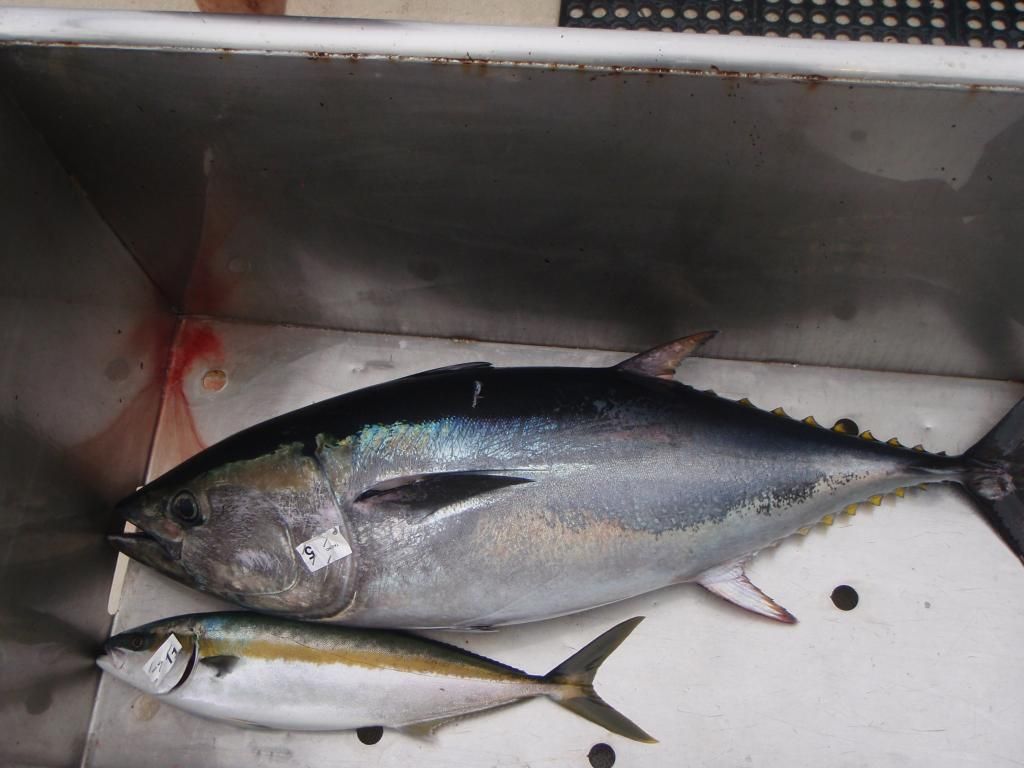 Some YFT caught on the porpoise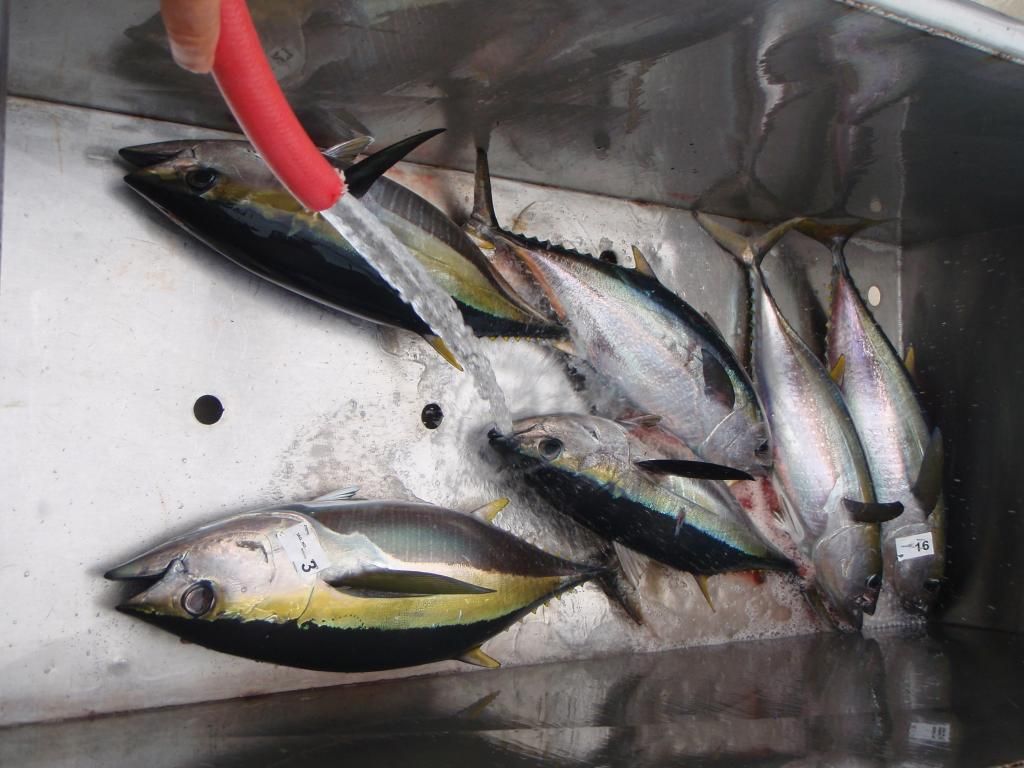 Man they are nice looking fish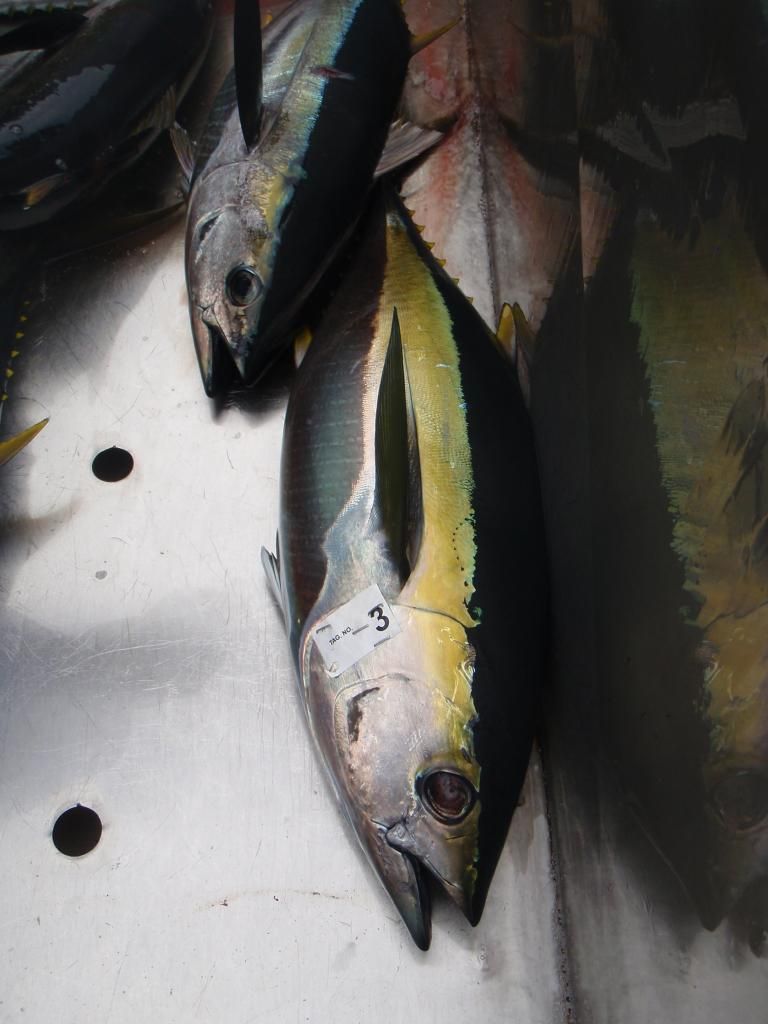 Some late afternoon yellowtail action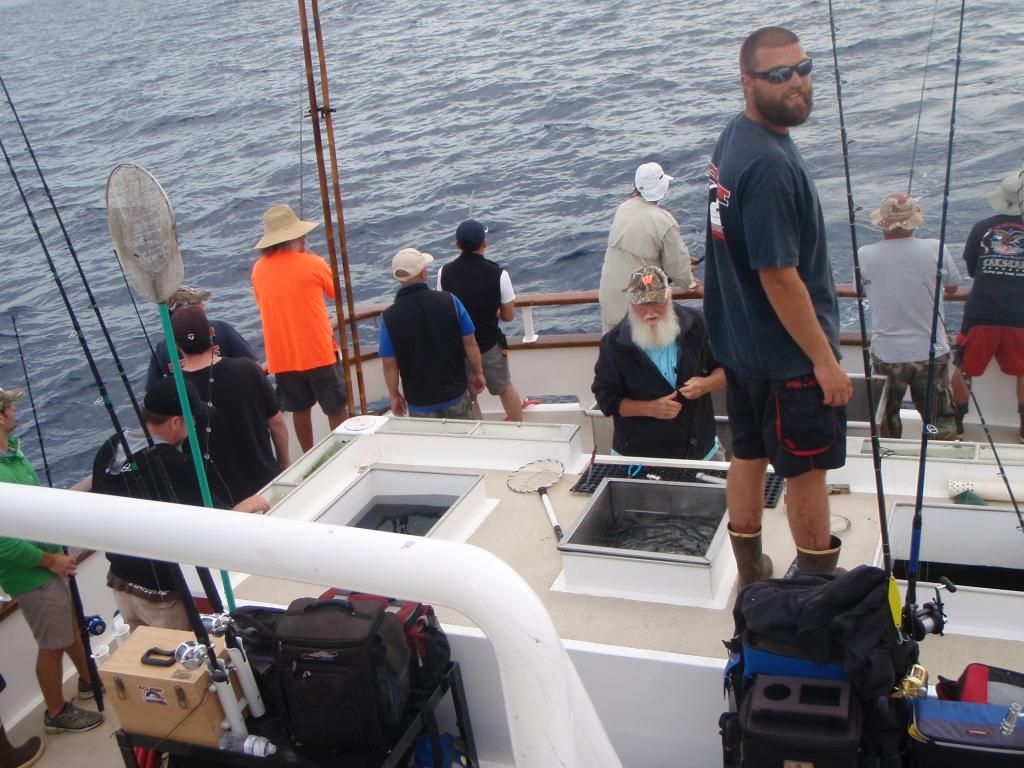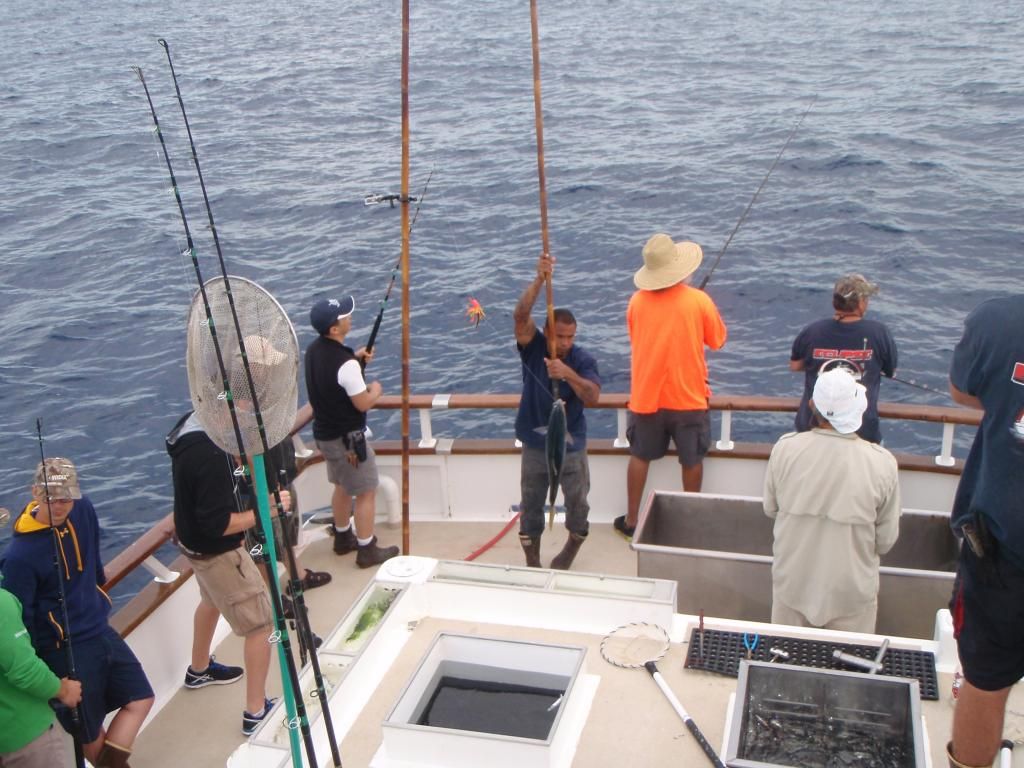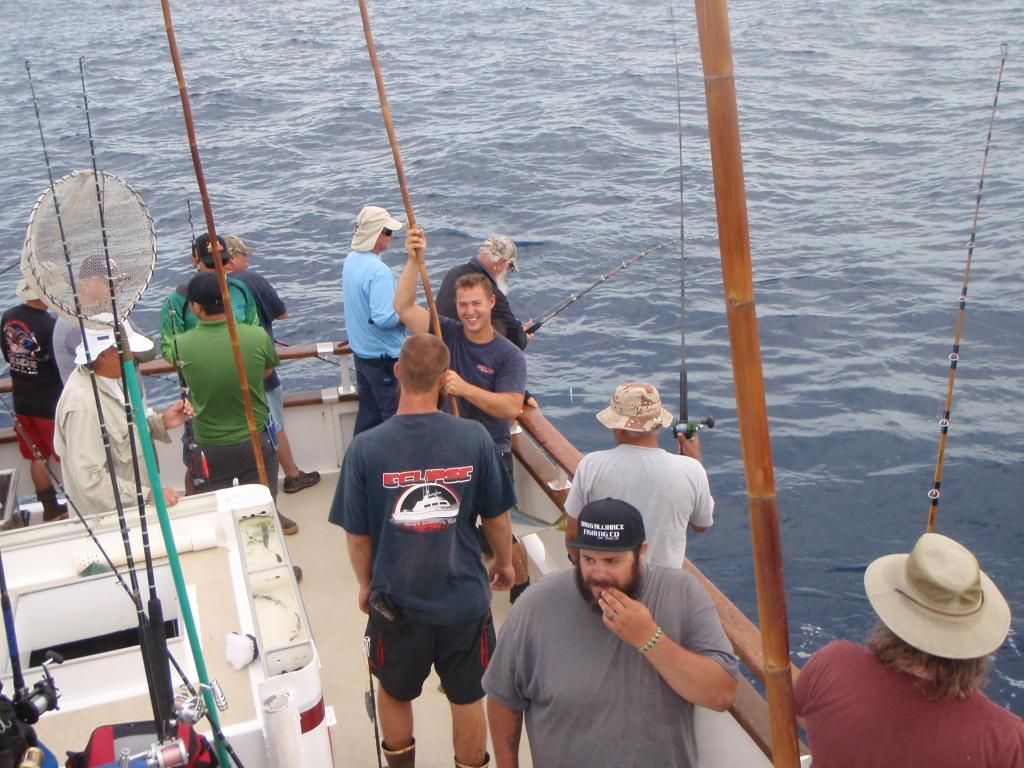 Kill box with some kelp paddy yellows ready to be dropped into the hold
We finished the trip with 35 BFT , 18 or so YT and 18 or so YFT for the 27 anglers including myself. Lots of lost BFT too. I managed 4 BFT from 30 to 45#'s , 3 YT and 1 YFT on the trip.
Big thanks to everyone who jumped on this Charkbait charter. It was a pleasure to fish with all of you and I hope to see you guys on next years trip.
Also a big thanks to Capt Adam and the crew who worked hard to get every fish they could to the boat as well as help everyone with their gear and setting up and a big thanks to the cook who made some fabulous food.
Will post some video shortly
Tight lines,
Behdad
This message has been edited. Last edited by: UnReel,